| | |
| --- | --- |
| | / Comfort: Inflatable mats vs Closed Cell |
This topic has been archived, and won't accept reply postings.
Hello UKC.
Once again I call on your repository of dubious knowledge and experience.
I am basically sick of 'thermarest-style' inflatable sleeping mats. My first, a Karrimor (I shudder to mention this used carcass of a brand) developed a shoddy valve within 6 months and proved impossible to fix despite copious amounts of glue, plastic cement, duck tape and tears.
The second, a Mountain Equipment Helium 3.8 (how did they arrive at the figure 3.8?) was even more frustrating given thats it was supposedly from a bomber brand.
First the valve. For 12 months the sodding valve teased my feeble fingers by becoming shut iron fast at the slightest whim. When I wanted to open and inflate it at 2 am, half cut in some god forsaken scout hut in sheffield it would remain clam like forcing me to collapse prostrate on this 70 quid uninflated plastic rug. In albarracin, it refused to open to allow deinflation, EVERY MORNING FOR A FORTNIGHT, meaning I had to shove it in our already bursting car given I couldn't leave it in our dust bowl of a refugio for some crusty climber to nick. I am very much a feeble punter and cannot afford to pop a finger ligament or waste an ounce of my precious almost non existant finger strength before a days bouldering. Yet, it cant even be blamed on my puny fingers. Even the iron grip of two V9/10 boulders couldn't best it.
Then miraciously two months ago, it started working. Now a month later, over the space of a fortnight it has started mistariously deinflating around 2 hours after inflating. I slow puncture I assumed. 'I'll get an iron on patch' I assumed. Wrong. Upon placing it in the sink, it appears the underside has given up being a roll mat and now would prefer to spend its twilight years as a sieve. Dozens of tiny leaks have appeared Completely irreparable.
However. I love the comfort of an inflatable roll mat. It feels like pure luxury. Yet I cant face splashing out another 70 quid just for something thats gonna break. I have seen grim faced, gnarly alpine sorts with this thing: The Sol Z lite Thermatrest
http://www.rei.com/product/829826/therm-a-rest-z-lite-sol-sleeping-pad
My questions:
1. How does the comfort of this closed cell pad compare to inflatable pads?
or
2. Do I just need to spend even more money on a better inflatable mat.
PS - Obviously, I assume the closed cell pad is not going to be AS comfortable, yet does it verge into the territory of 'fast and light' comfort? (for this read: 'unbearable pain but stops you dying')
I find a zlite OK on normaly softish forest floor, on hard ground though it's borderline uncomfortable, but I'll cope. I'm a bony person, if my pack has a removable square of foam that could go under my hips and all would be fine.

Of note, I slept on a wooden floor with my prolite 4 and zlite for around a year (zlite on top, was slightly more comfy). The prolite 4 doesn't self inflate like it used to, but the zlite I binned. It seemed to have lost all its stiffness. In my opinion while less durable, the prolite has more longevity.

That said I now have a neoair xtherm, which puts the other two to shame comfort, warmth and packed size wise - it comes in quite close to the zlite weight wise. It is a much more thinner construction, so I expect it to start leaking before the prolite does.

(I do have a zlite sol now, too, sometimes you just want something that isn't going to pop...There's a huge difference in warmth between that and the xtherm.)
In reply to
funsized:
I had a closed cell mat as my first ever mat. i then progressed onto a vango self inflating mat which worked but was only ever as comfortable as the closed cell. However it rolled up more compactly so I used it. It developed a leak around the valve after a couple of years reasonably hard use so got binned. I then bought a proper thermarest and the difference in comfort is fantastic. The thermarest is so much better and although I've only had it about 6 months, my dads has lasted a good few years already. Basically, i would suggest a proper thermarest :)
In reply to
funsized:
Nicely written question. I own a thermarest guidelight that is around 12 years old. I've repaired the holes I inflicted upon it (it isn't crampon or ice axe proof), and it's just fine.
I don't use it often, but I've probably had about 100 nights sleep on it.
I've now superseded it with one of those lightweight inflatable mats, but you can read my views on why that will also soon be superseded here:
http://www.ukclimbing.com/forums/t.php?t=549435&v=1#x7339938
I'm still contemplating what with, but weight is key as camping often involves long walk-ins here in Norway. A lighter thermarest is an option if a suitable one exists.

In reply to
funsized:
I have an exped downmat. It has seen lots of use, at least 100 nights, everything from a Scottish bothy to a school floor in Nicaragua to wild camping by the Limpopo to the joys of Ladakh. On all sorts of surfaces it has kept me cosy and comfy. Far more comfy than a closed cell foam mat, far more comfy than a Thermarest, and a lot warmer than either.
Yes, the built in pump takes a bit of time and effort, but that is effort I am happy to make.
It has always worked, no problem.
The price is a bit of an ouch. And I think the down is no longer as evenly distributed as at first, so it is losing some of its insulation.
I have just bought an Alpkit Numo for comparison. This is a lot lot cheaper.
But I can't see me going back to a closed cell foam mat or a Thermarest unless I know that I shall be sleeping on something that is itself a bit giving, like deep heather or some nice, lush grassland.
---
This topic has been archived, and won't accept reply postings.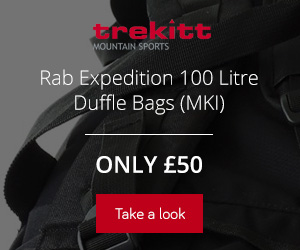 Elsewhere on the site
On Saturday 13th December Greg Boswell and Guy Robertson kicked off their Scottish winter season early by making the... Read more
141218
0
The Epicentre Mega Winter Sale starts in store 9am Christmas Eve. We have a great selection of in store only deals from... Read more
141218
0
This years ROCfest will be slightly different. We've decided to run a Climbing Festival, not just a competition! Over... Read more
141216
0
The release of Peter Jackson's new film The Hobbit: The Battle of the Five Armies on 12th December may not appear to link to... Read more
141212
0