| | |
| --- | --- |
| | / Kalymnos with kids |
This topic has been archived, and won't accept reply postings.
Hi!

I´ve never been to Kalymnos and never been on a climbing trip with a very mobile (read reckless) 2-year old. We´re planning to go for 2-3 weeks in october. (I fear it will be a bit more of a challenge compared to when we were in Tonsai when she was 6-months...)

Anyone got some good pointers? Accomodation, what to bring, any childfriendly crags , and god knows what?

cheers
Daniel
In reply to
DanielJ:
IMO there are no real child friendly crags - it would be a case of somebody babysitting at the beach or wherever whilst the other climbed.
In reply to
Jus:
Hi
Although they'd grown up by the time I'd discovered Kalymnos, I'd nevertheless taken my kids to crags across Europe/the States since they were 6 months old. On the basis of this, here's my view:
Most Kalymnos crags are not as easy for kids as, say, somewhere like Mouries North Face which has, basically, a cricket pitch at its base! Approaches at Kaly tend to be quite steep and rocky (even if mainly short) so a 2 year-old would need some attention and help on the way up and down. Although virtually every crag has some flat ground, the terrain usually leads away quickly into prickly scrub, rocky slopes and small craglets... if small children wandered off, they would almost inevitably gather grazed knees and their yowls and your guilt would blow your red points.
Also as many of the crags are tufa-rich, one can not afford to be inattentive and children would either need to be tucked under a protective overhang/in a small cave or positioned WELL outside the fallout zone of dislodged rock. Groundward tufa does explode over a large distance. Although one does see some pretty thoughtless people with children on occasion, this is REALLY important in a place like Kaly. Without a third party, it's very unlikely that a 2 year-old would stay in a 'safe' location for long (boredom sets in). For this reason, I would have felt very uncomfortable taking a 2 year-old if there'd only been 2 adults in the team.
However with a third person, it's entirely possible to take a 2-year old to virtually all crags on Kaly... and many many families do. Often it seems to be two couples with kids and days alternate between beach teams with all the kids and climbing teams without. If that's possible, then Kalymnos is one of the very best locations for a combined family/beach/climbing holidays. Just be alert to the dangers.
I also believe it's possible to get child minders... phone Birgitta at the Kalymnos Adventure Center.
In reply to
carl dawson: Thats about what I´d have thought. Good points about the dislodged rock, I´ll guess we wont bring any kids to the crags. Luckily we will be 3 families so we can take turns babysitting.
Anyone know childfriendly some accomodation, and by that I mostly think about the terracces and balconies? (Preferably not so easy to climb over)
In reply to
DanielJ:
When I went to Kalymnos, most crags seemed to have a creche in a suitable shallow cave with a gang of kids tethered to bolts with ropes or bungy hanging things, cared for in rotation by one of a consortium of parents while the rest cranked it out overhead. Seemed a good system but not seen this anywhere else!

Bump for the monday crowds.

Any tips for decent accomodation with big terracces preferably semi-covered with roof?
---
This topic has been archived, and won't accept reply postings.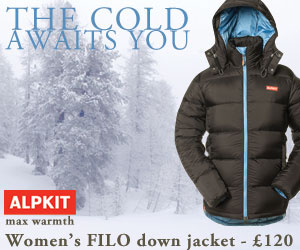 Elsewhere on the site
At a bar in Llanberis an old man chimed in And I thought he was out of his head Being a young man I just laughed it off When... Read more
141203
0
Rock shoes stink – let's face it. Boot Bananas are the perfect way to fight the funk and keep them fresh. They help... Read more
141219
0
F ounded in 1993, Mountain Hardwear are a pretty young mountaineering clothing and equipment manufacturer but are also one of... Read more
141216
0
Tonight's Friday Night Video features the Norwegian town of Rjukan, once believed to be the home of the world's tallest... Read more
141219
0
Perhaps the perfect Xmas gift for the climber in your life... Wild Country's Crack School has two of the worlds best crack... Read more
141219
0