| | |
| --- | --- |
| | / Everest Base Camp advice needed |
This topic has been archived, and won't accept reply postings.
I'm off to Everest in 3 weeks and my kitlist/info is limited. Would appreciate some know-how from someone whose experienced it in the rainy season, especially advice on sleeping bag requirements, altitude sickness and size of backpack. First hand accounts will beat reading up online. Thanks!
In reply to
Philly:
Are you going with a porter or carrying everything yourself?
A Sleeping bag rated to -10C should be more than sufficient. Almost all of the teahouses will have blankets especially as you going in non-peak season.
In reply to
Philly:
Dude,
Went last January for 6 months, so feel I got to know the area pretty well, and what you can expect/need....
Firstly, I have a feeling that the tea houses higher up the Khumbu are not open 12 months of the year, due to the poor weather up there. I think those above Lobuche close down - are you doing this as part of a bigger group? You need to check, for obvious reasons.
Kit wise -
It gets warm in the day and damn cold in the evening. I have always invested in a good sleeping bag, but as the other post said something down to -10 comfort rating would suit, and make sure you get Down fill, as much lighter to carry and smaller to pack.
Boots - Get a pair of Goretex lined boots, rated to B2 (your not wearing Crampons) but this stiffness I find helps with the ground you are covering, its rocky, and loose in places. Also, good socks that quick dry as it's going to be wet/snowy....
Walking poles - I dont use them, but do at altitude due to the effort taken....
Clothing - as you would wear for a Lakeland Winter, layer up, so you can regulate your heat, but keep warm at night if bitter.
Pack - I took a 75l Macpac, but I carried everything myself, no porters, and didn't fly in, I walked in from Jiri, so needed a lot of gear, and therefore a big pack. If you have porters, a simple day sack is good to go.
AMS - This is usual for people to worry about, and you're right to be worried, but let this become your main focus when you get to altitude as it'll become all consuming....
Simple steps will help to avoid any sort of AMS - dont climb high too quickly, drink plenty of water each day and be aware of symptoms. Have a look at the Himalayan Rescue Association website, there is a bag load of Info on there about AMS, symptoms to look out for and how to avoid/manage.
They have a post at Phriche, on your route I should think. (not sure if it's manned or open at this time of the year.)
All in all, enjoy it, it's a great place with great people, and once you get used to it, great food!
A 75l rucksack is overkill for tea house trekking really. I've taken a 35 litre pack and light sleeping bag in September and that was fine, I take a 50 litre pack now as I carry a fair amount of camera kit. The only time I've taken a 75 litre pack and filled it is when I was climbing and carrying plastic boots etc. You are better off trying to minimise your kit as extra stuff is just extra weight that's gonna wear you out at altitude.

On your feet wear whatever you are comfortable with hillwalking in the UK. On the whole the trails are better than what you'll find in the UK apart from higher up where mostly they are the same. B2 will be overkill for many, ordinary boots or approach shoes fine for most, I personally wear trainers and have been fine, I just dry them out in the evening.

It'll rain a fair bit when you are going. I take a cheap plastic poncho (2 quid job from outdoor shop) as I can sling it over me and my pack and when its steamy the hot air can escape much better than a waterproof jacket.

Enjoy!

In reply to
Philly: my advice is to try to limit your pack to less than 12-14kg. If all the lodges are open you have no need for a sleeping bag as they all supply heavy wool blankets. However be aware that they don't wash them all that often. Personally I would still bring a sleeping bag for two reasons- hygiene and if you get lost on the trail and the sun goes down a sleeping bag could save your life.
Otherwise be very careful of drinking water- you can buy bottled water all the way to Gorak Shep but all that discarded plastic is not good for the environment. Purify all stream/river water with iodine and flavour it with Tang which is a powder flavouring that will make it taste of orange and will get rid of the iodine taste off it. Also bring diahorrea tablets because if you get it in a bad way it can potentially ruin your whole trek as you won't be able to walk far without having to stop to relieve yourself- trust me, I've been there and it is not much fun
---
This topic has been archived, and won't accept reply postings.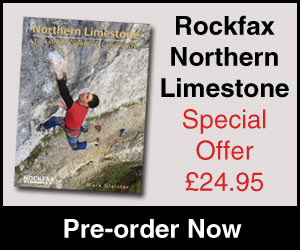 Elsewhere on the site
Perhaps the perfect Xmas gift for the climber in your life... Wild Country's Crack School has two of the worlds best crack... Read more
141219
0
The release of Peter Jackson's new film The Hobbit: The Battle of the Five Armies on 12th December may not appear to link to... Read more
141212
0
PowerFingers is a simple, easy to use product which is incredibly effective for Climbers who require finger strength and... Read more
141222
0
Tonight's Friday Night Video features the Norwegian town of Rjukan, once believed to be the home of the world's tallest... Read more
141219
0