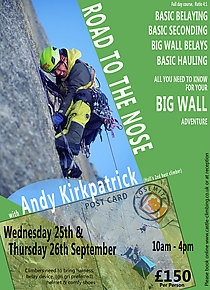 1 Day
BIG WALL
Courses with Andy Kirkpatrick at The Castle Climbing Centre
Back due to popular demand!
If you're thinking about a big wall adventure this autumn and need to brush up on your aid techniques or you're unsure how to clean a pendulum, these may be the courses for you.
Andy will be holding 3 workshops in September, teaching you all you need to know;
Wednesday 24th - Road to the Nose (Basic Course)
Thursday 25th - Road to the Nose (Basic Course)
Friday 26th - Road to the Shield (Advanced Course)
(10am - 4pm)
£150.00 per person
• The courses will give you an insight into the multitude of physical and mental challenges you will face on a big wall.
• You will learn about the gear required for big-wall ascents.
• You will practice the techniques of a basic wall system in a safe environment, mastering the ability to deal with multiple ropes, slings, aiders etc.
• You will learn about hauling and cleaning, including cleaning pendulums.
With such a wealth of knowledge Andy will be able to impart some 'tricks of the trade' and regale you with plenty of stories of his experiences.
To book, please visit our website
http://www.castle-climbing.co.uk/masterclasses
*To attend the Road to the Shield course you must have a basic understanding of aiding already and ideally should done the basic Road to the Nose course already, or have some big wall experience.