| | |
| --- | --- |
| | / Bivvy bags |
This topic has been archived, and won't accept reply postings.
I'm thinking of getting a bivvy bag, mainly because I have ridiculous shoulders which can't reliably carry much weight.

I am not a hardcore camper. I don't want to sleep out in a blizzard. I just want to be able to wild camp when we have fantastic summer nights like we have had this year. I feel the cold, but have a very warm, cuddly cosy sleeping bag. Although I wouldn't actually go out in the rain to camp, this being the UK it is highly likely that I will get rained upon at some point during the night, so I don't really want to have my face uncovered to the wind and rain (although in my minds eye I am camping on a sultry mid-summer's night where I will be too hot rather than cold and there will be a bit of dew but no cold...)

What kind of bivvy bag would be recommend? Weight is my main consideration - I have a 1 person tent which is 1.6kg. It is a very old gent now and the front pole is bent and although it is serviceable when I finally managed to pitch it, it is a devil of a job to pitch properly if there is only one of you. To replace it with a modern counterpart requires me to take out a mortgage... So, given that, I am looking for something that is lighter than my tent - or at least no heavier - and considerably cheaper than the equivalent lightweight tent - Alpkit do a bivvy bag for as little as £30...(although I am not sure about this as it doesn't seem to have a cover for the face)

Anyone got any suggestions or recommendations?? I am thinking of going on a hiking tour of the Lakes next week and though I expect to stay mainly on hostels it would be nice to have some emergency backup...
In reply to
fionafluffy:
I've always been very happy with the Army surplus ones. Cheap as chips and very hard wearing. Plenty of space to put your rucksac inside down by your feet too.
That is very helpful - thank you :-)
In reply to
fionafluffy: I have an envelope style bag with a zip which runs around the end and I wouldn't necessarily recommend this design.
It does give you good weatherproofing but if the weather is fair it makes it harder to keep the bag off of your face and you get worse condensation problems. I believe the drawcord hood style is better in this respect.
If you are intending to use the bag only with a good forecast I would go for something like a rab survival zone which is very light and has a drawcord hood.
In reply to
fionafluffy:
I second the army surplus option - They're very roomy, which makes a huge difference.
In reply to
fionafluffy: I'm quite happy with my Alpkit Hunka, have used it in the Alps in Summer and Scottish Winter and all things in between. =o)
---
This topic has been archived, and won't accept reply postings.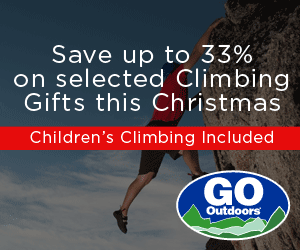 Elsewhere on the site
Perhaps the perfect Xmas gift for the climber in your life... Wild Country's Crack School has two of the worlds best crack... Read more
141219
0
F ounded in 1993, Mountain Hardwear are a pretty young mountaineering clothing and equipment manufacturer but are also one of... Read more
141216
0
The release of Peter Jackson's new film The Hobbit: The Battle of the Five Armies on 12th December may not appear to link to... Read more
141212
0
Tonight's Friday Night Video features the Norwegian town of Rjukan, once believed to be the home of the world's tallest... Read more
141219
0
Rock shoes stink – let's face it. Boot Bananas are the perfect way to fight the funk and keep them fresh. They help... Read more
141219
0
---