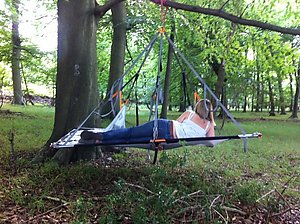 Black Diamond Double Cliff Cabana for sale. Light use, good condition.
A few dirt marks on the bed and two small nicks (each less than 10mm). These have absolutely no impact on the ledge and are covered with a patch. Also some rub marks (as you would expect) on the wall side.
Buyer is welcome to inspect. Collection from High Wycombe / Windsor / possibly London or posted for additional £35.
Lightweight fly available as well (as new).
Model not included.
£350
Folks, I'll drop this to £300 and then it's going on eBay...
In reply to
TomO: How much for the portaledge and the fly please? Thanks
In reply to
TomO:
hi has this been sold?
if not let me know.
cheers
Stu
In reply to
TomO:
Is the ledge still available. . Cash waiting.