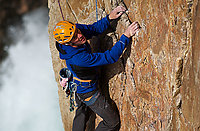 To complete the Dundee University Rucksack Club's 90th anniversary celebrations the club will be holding a fundraising day of films and talks in Dundee.
"DURC 90: A Celebration of the Outdoor Life"
- Saturday 26th October
- Dalhousie Building, Old Hawkhill, University Of Dundee, DD1 4HB
- Doors open 2:30pm
- 3pm - 4:10pm Films
- 4:20pm - 5pm Alan Rowan
- 5pm Break (20% Discount on food at sponsor pub Clarks when ticket shown)
- 7pm - 8:30pm Dave Macleod
- Exhibition of club history, DMFF, DMC, Tiso throughout.
Films: Macavalanche - Mountain biking Glen Nevis
Carrington: Docu-Drama showng the life of Rab Carrington in the 1970's.
An independent film showing bouldering in Scotland
Alan Rowan: 'Tales of a Nocturnal Munroist'. Alan Rowan has been a journalist for nearly 40 years, working in Dundee, Aberdeen and on a variety of national newspapers in Glasgow. He is a mountain fanatic, having climbed the Munros twice, the Corbetts and all the 3000-foot peaks in England, Ireland and Wales, many of them during the wee, small hours. He is currently closing in on a third round of Munros as well as ticking off the Grahams.
And I'm sure Dave Macleod needs no introduction or bigging up on here, suffice to say I'm sure it'll be a fascinating talk covering old exploits and new.
Tickets can be bought at:
http://durc90talk.brownpapertickets.com/
for £10 or £8 for concessions (subject to booking fee) or reserved from the committee with no fee through
durc90@durc.org.uk
This is also the email address for any questions you might have.
They should also be available through Tiso Dundee soon but they're currently waiting on their tickets.
Hopefully lots of you will be able to make it out and help one of Scotland's oldest University Clubs raise funds for those increasingly expensive minibus hires and petrol fillups!
Guy Templeton,
President