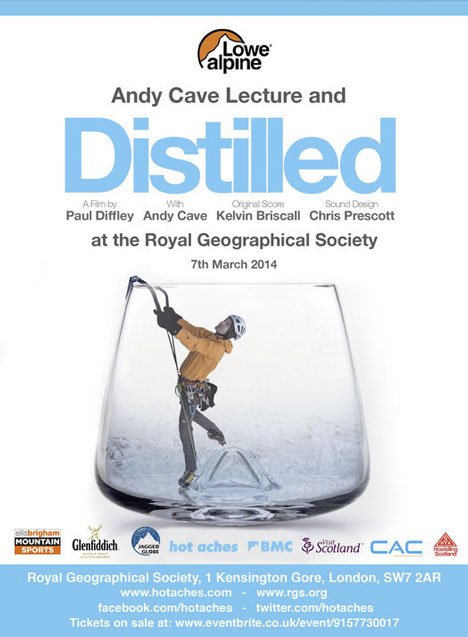 Andy Cave Talk - A life on the Edge followed by a screening of award winning film Distilled accompanied by a tasting by Glenfiddich!
Tickets - £15.00
Andy Cave has over twenty years of alpine climbing experience.
He is a qualified UIAGM mountain guide and author of two books; Learning to Breathe, which received the prize for best Adventure travel book at the 2005 Banff Mountain Book Festival, and the sequel Thin White Line that was published in early 2008 and contains more climbing memoirs.
Aged just 20, Andy became one of the youngest mountaineers at that time to climb the infamous North Face of the Eiger, an achievement made all the more remarkable as just 4 years earlier Andy was working 3000 feet underground at Grimethorpe Colliery in South Yorkshire. Also significant was a repeat of Divine Providence, one of the most difficult Alpine routes at the time. Aged 21, Andy cashed in his miners' pension and went to Asia for five months with Joe Simpson, beginning his quest to seek out new routes and dedicate his life to mountaineering.
Distilled is a celebration of Scottish winter climbing and a poignant profile of a life spent in the mountains. Read more about Andy and see the trailer in the UKClimbing Friday Night Video -
http://www.ukclimbing.com/news/item.php?id=68470
To book your tickets now please click on the following link:
https://www.eventbrite.co.uk/e/an-evening-with-world-class-mountaineer-and-author-andy-cave-tickets-...