| | |
| --- | --- |
| | / Five Ten Stealth or Vibram XS Grip for a resole? |
This topic has been archived, and won't accept reply postings.
As the above really. I have an aged pair of red chili spirit slippers (in more than one sense...) which my feet adore and am in despair after buying 2 new pairs to get a more technical shoe without hurt. What can I say - I'm a wimp!

I'm heading down the resole route and need the most magical rubber in existence to counter the slipperishness of said shoes.

Any resoling advice and rubber recommendations welcome. I'm headed towards Cheshire Shoes at the moment as previous threads suggest it's about the same and they're a fair bit cheaper. The rand on my current favourites seems ok, no holes or massive wear just the edges are long gone and the rubber underneath soles very thin and worn.
In reply to
flopsicle:
The stealth is way stiffer and stays stiffer for longer in my experience. I had some scarpa instinct lace done with stealth and they're still stiffer than I'd prefer. They had vibram grip 2 originally.
If I did it again I reckon I'd just get the stealth but get it thinned down a bit but I do prefer tighter, softer shoes.
Post edited at 20:22
In reply to
And Climb:
That's really interesting. As mine are currently worn very thin/soft so I suspect it'd take a lot of getting used to if they came back very stiff. One of the reasons I've found the 5:10's hard is that I feel like my feet are wooden in them - that and OWWWW!
On the order form they also offer Vibram XS 2 but in 4mm rather than 5, which may be worth a thought if 5mm can feel too stiff. They also have 5:10 Onyx 5mm, just to add to the confusion. On the website it just gives the 2 in the OP title or I'd have confused folk from the outset.
Not sure how relevant this is but the things I find trickiest is the border between an edge and a smear (small lumps...) and I climb mostly indoors, some textured features, would like to get out more though.
Any other suggestions?

I've had a rough trot with new shoes, got it wrong one way then the other. I'm not sure what to try next if I don't get this bit right.



In reply to
flopsicle:
I've found that stealth rubber lasts longer and is stiffer so I prefer it for indoors and edgy routes but I've found vibram xs to be much better for gritstone and more smeary climbing.
---
This topic has been archived, and won't accept reply postings.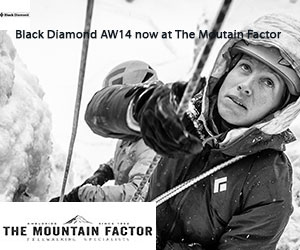 Elsewhere on the site
The Epicentre Mega Winter Sale starts in store 9am Christmas Eve. We have a great selection of in store only deals from... Read more
141218
0
This years ROCfest will be slightly different. We've decided to run a Climbing Festival, not just a competition! Over... Read more
141216
0
On Saturday 13th December Greg Boswell and Guy Robertson kicked off their Scottish winter season early by making the... Read more
141218
0
F ounded in 1993, Mountain Hardwear are a pretty young mountaineering clothing and equipment manufacturer but are also one of... Read more
141216
0