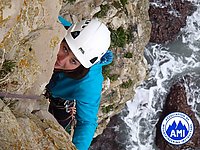 Competition to Win a Free Course in Snowdonia !
Intro to Multipitch Climbing, 2 places - 12/04/14
Self Rescue for Climbers, 2 places - 13/04/14
To enter you need to do 2 things...
1. Like my Facebook page
http://www.facebook.com/jbmountainskills
and share the competition post.
2. Email me your name and which course you'd like to be entered for, to this email:
jbmscomp@gmail.com
The 4 winners will be picked at random on Monday the 10th March. I will then check you've liked my FB page and email you the good news!
Please feel free to visit
http://jbmountainskills.co.uk
for more information about courses I offer and a further information about myself.
Both courses are 1 day and no food or accommodation is provided.
Further info will be provided to winners regarding kit list, meeting times etc.
No alternative dates or courses are available as prizes.
If you're not a Facebooker, then get someone else to like and share on your behalf and include their name in the email.