View latest messages in My Forums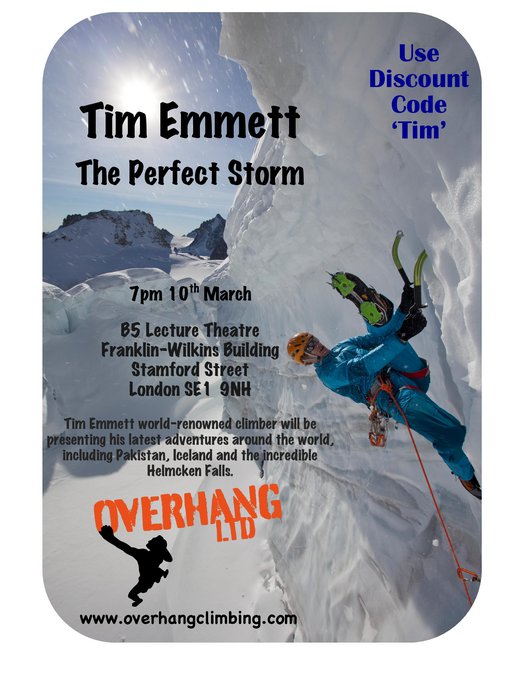 Legendary Ice climber, Rock Climber and Mountaineer Tim Emmet is coming to London. As he now lives in Canada this is rare chance to hear him talk. Tim Emmett world renowned climber will be presenting his latest adventures around the world, including Pakistan, Iceland and the incredible Helmcken Falls. Tim is a rock climber, B.A.S.E Jumper, Wingsuit Flyer, Surfer, Skier, Snowboarder, TV presenter, inspirational speaker, stuntman and event organiser. He has appeared on numerous BBC programs and has made a living out of his passion for climbing and extreme sports.
It starts at 7pm the 10th March near Waterloo Station in London. Tickets can be bought at www.overhangclimbing.com using the discount code 'Tim'
In reply to
Overhang:
Just bought mine. After the Eric talk this should be great.
In reply to
jasonpather:
Yeah I came to the Eric Jones Talk last month. It was brilliant. Cant wait to see Tim. His climbs are mad!
In reply to
Overhang:
Got my ticket to Tim Emmett. First Eric now Tim! Great line up of speakers- Thanks Overhang Climbing Ltd.
Wonder whom you are planning to get next?
In reply to
Overhang:
Looking forward to Tim's talk. It should be hilarious. I am also bringing my copy of his book Preposterous Tales to get it signed!
---
My Forums