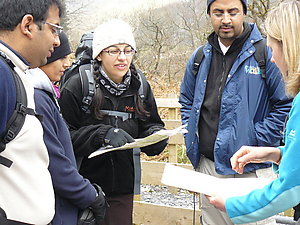 The BMC Equity Symposium aims to celebrate and support ethnic minority adventure in the great outdoors on the weekend of 28 to 30 March. Book your place now to take part in this important event.
When is it?
The symposium starts at 7pm on Friday 28 March and finishes at 4.30pm on Sunday 30 March.
Where?
YHA Haworth, near Keighley, West Yorkshire.
What?
A full weekend of practical sessions, outdoor instruction and inspiring speakers.
Who is it for?
Both people from ethnic minority groups who want to get more active in the outdoors as well as those looking to help people from ethnic minorities get more active in the outdoors e.g. instructors
Who are the speakers?
Speakers include accomplished climber and ex-BMC Vice President Rehan Siddiqui, GB junior climbing team captain Molly Thompson-Smith, top UK volunteer Chamu Kuppuswamy and UK Forum Against Islamophobia and Racism (FAIR) founder Jeremy Henzell-Thomas.
Why?
Research shows ethnic minorities in Britain participate less in the outdoors than the rest of the population. There are signs that things are changing but there is still a long way to go before activities like hill walking, climbing and mountaineering are truly representative of the population at large. The BMC Equity Symposium hopes to help change this.
How much?
The cost is just £30 for BMC members and £40 for non-members. The price includes two nights accommodation, all meals, plus access to all the activities on the timetable. Bargain!
Find out more and book your place now
at
https://www.thebmc.co.uk/breaking-down-the-barriers
For further information contact
carey@thebmc.co.uk