| | |
| --- | --- |
| | / Climbing in Czesky Raj, Czech Republic |
This topic has been archived, and won't accept reply postings.
I am headed out to Czech in August and need to find out as much as possible about the climbing traditions and rules applied out there. Also if anyone is knowledgeable in regards to this area, are there any specific places I should go. If it helps I am looking for easy climbs just to enjoy with a few friends and would prefer to be able to use single pitch techniques, though I can work with sport.
In reply to
NParsons:
It's the full Czech sandstone ultra-trad ethic there. No metal protection, only jammed knots, tapes on flakes and spikes and the occassional big ring bolt. No cams or nuts allowed. Not sure about the situation with chalk in Cesky Raj but it's certainly banned in other Czech sandstone areas.
Videos link to this site should give you an idea of what to expect:
http://www.hsceskyraj.cz/en
However, fully-guided climbing can be had quite cheaply. I did this when I tried the climbing in Adrspach - a similar area of sandstone towers further east.
Chris
In reply to
NParsons:
Just to confirm what Chris has said, I had a pretty unsuccessful trip in the 90's, it was pretty wet and they are strict about not allowing climbing until it has had 24hrs to dry. So crap if you have showers every day!
They do have large ring bolts in place, which I believe were placed by hand on the FA. But be warned it isn't a clip up, they can be about 40 foot apart, with only your knotted rope between - very bold tradition.
Beautiful part of the world and well worth a visit.
Jon
In reply to
NParsons:
Hi,
...it really depends which sandstone crag you visit.
Chalk -> Generally chalk is forbidden...there are some exceptions (at some places) but not in case of easy routes.
No metal for protection -> this is true everywhere.
Rings -> we have bolts somewhere as well:) The distance between them differs accross the crags...its good to know where to go. Its even better to know which routes to try.
Do you already have any idea where you wanna stay, which places (not only climbing) you want to visit?
Rough ideas about places I know a bit:
Adrspach - I would not recommend for first time - bold routes.
Hruba Skala - might be suitable especially if you know which routes to try. If you don't know you might spent the whole day walking (its huge there):)
Krizovy Vrch - suitable. Not so big place so you might get a rough idea about the place even by walking underneath the rocks and pick up some routes you like.
Pantheon (near Mala Skala) - more of a "sport" climbing stuff. Even easier routes are quite protected. It is also called "training gym" -> so that speaks for itself -> it is probably not that charming as the other places.
Suche Skaly -> solid(not crumbly) sandstone. Not so big place, you will get rough idea by walking underneath.
Labske piskovce (aka Labak) - solid sandstone. Really big (high, many routes). Even some easier stuff is well protected or well "protectable". The best is if you know the routes you wanna try, otherwise a lot of walking:)
If you want just write me here, or email me for some more information. I might even join you if we feel like that in August:)
adam
In reply to
NParsons:
If all this is begining to get a bit worrying, there are alternatives to the Czech sandstone where a different ethic prevails. There is good climbing on volcanic rock on Boren, near the town of Bilina, and other substantial crags above the river Ohre near Karlovy Vary. There are others too. These have a similar ambiance to many crags in the Lake District and you can use normal trad gear.
I'm sure Adam can suggest other ideas as he is a true native of the Czech Republic and not just an adoptive nateive like me!
Chris
---
This topic has been archived, and won't accept reply postings.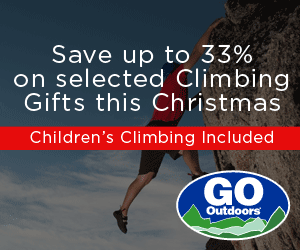 Elsewhere on the site
F ounded in 1993, Mountain Hardwear are a pretty young mountaineering clothing and equipment manufacturer but are also one of... Read more
141216
0
Perhaps the perfect Xmas gift for the climber in your life... Wild Country's Crack School has two of the worlds best crack... Read more
141219
0
With four photos in this week's top ten, and a UKC gallery of stunning images we thought it was time we had a chat with... Read more
141203
0
Rock shoes stink – let's face it. Boot Bananas are the perfect way to fight the funk and keep them fresh. They help... Read more
141219
0