| | |
| --- | --- |
| | / Todra Gorge, Morocco development |
This topic has been archived, and won't accept reply postings.
After a recent trip spending a weeks climbing in the Gorge I realize there is a vast discrepancy between what is on UKC and what has been bolted since the last updates in 2006.
How would I go about updating the crags I visited and adding the climbs I completed without trashing other peoples previous input and causing an all-round political incident?
Any advice would be welcome as we were relying on the widely available photocopied/hand-drawn/daily updated guidebook that is available from Hassan Mouhajir. This is currently the most informed (if faulty) guidebook available at present (two competing books might be in the pipeline).
I would basically like to clock up a week's worth of climbs on my logbook.
Regards, Ben.
Post edited at 22:43
In reply to
bsparky:
Hey mate im heading there in a months time. What was your thoughts the routes there? Was there a good variety of grades?
Cheers man, just keen to get a good over all idea before heading out :)
In reply to
tom.fleming17:
Hey Tom, you'll love it. There are 40 or more sectors to visit and counting. Grades vary from 4-8 french sport grades. Do drop in to (Hotel) Auberge La Vallee to meet Hassan as he is the grandaddy of climbing for the area. A copy of his guidebook should set you back between £15-20. We paid about 400 Dirhams for two copies which is about 40Euros. He may well sit you down for some Mint tea and draw the latest climbs in as lots of European teams are bolting like mad. Take at least a 70m rope as most of the routes are over 30m. Beware the rock is sharp and will wear on your gear, fingers and shoes but it is so grippy it's not true. The local purveyors of tatt tend to leave you alone if you're lugging climbing gear around as they know we're not there to buy it. Do take the time to chat to folk as they're all pretty easy going and just generally shooting the breeze rather than looking for an angle. Especially hook up with Allal who equipped the Via Ferrata at the 'Regression' crag. He's always found at his stall opposite in a brown puffer jacket. He runs the climbing shop back in the village with his little brother (only one in Morocco apparently) which is pretty well stocked. He'll quiz you on what grade you climb and then suggest where you should take a gander.
My main advice is take sun-block and a down jacket as the difference between the midday and nigh-time temps are a bit of a shock.
Have a good one, Ben.

In reply to
bsparky:
Wow Ben thanks for the bril advice. I think that is the best block of info I have recieved from anyone on the gorge yet so cheers for that mate :)
One more question, what do you reckon for accmodation, from what I have gathered so far its pritty hard to booked any rooms prior to getting there. just a little worried as we are heading over in the middle of april so it will be half term and I dont know how busy it will get :)
Thanks again matey
Tom
---
This topic has been archived, and won't accept reply postings.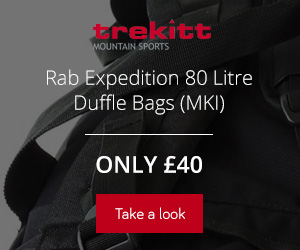 Elsewhere on the site
F ounded in 1993, Mountain Hardwear are a pretty young mountaineering clothing and equipment manufacturer but are also one of... Read more
141216
0
Tonight's Friday Night Video features the Norwegian town of Rjukan, once believed to be the home of the world's tallest... Read more
141219
0
Perhaps the perfect Xmas gift for the climber in your life... Wild Country's Crack School has two of the worlds best crack... Read more
141219
0