| | |
| --- | --- |
| | / Climbing Gear (DMM,Black Diamond,Wild Country) |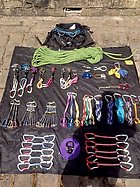 Climbing Gear Complete (DMM, Black Diamond, Wild Country, Clog)
Selling my Climbing gear as I have not used it for about 2 years now due to just not having the time anymore! The kit is in really good condtion and ready to go! Would like £750 for complete kit and don't want to split. Collection can be from Halifax, West Yorkshire
The kit pictured includes:-
Singing Rock Climbing Bag
DMM Cams 4.0, 2.5, 1.5, 0.5
DMM Dragon Cam No. 5
Wild Country Friends 3, 2, 1
Petzl GriGri 2
DMM Boa HMS Karabiner
DMM Figure of 8
Black Diamond ATC-XP Belay Device
4x Various Prusik rope
Wild Country Nuts 12, 13, 14
Black Diamond Nuts 11 to 16
DMM Nuts (Full Set)
Wild Country Rockcentrics 9 to 3
Wild Country Sling 400cm, 240cm x 2,
DMM Sling 120cm, 60cm x 2
Nutkey Tool
Clog QuickDraws x 5
Wild Country QuickDraws x 5
6 x Clog Locking Karabiners (Various Sizes)
6 x Wild Country Karabiners
4 x DMM Karabiners
60m Rope
Wild Country Harness
Also Selling:-
La Sportiva Nepal Evo Mountaineering Boots Size 42/8 (Immaculate Condition) £300
Black Diamond Pair of Viper Ice Axe's (With Grivel Leach) £250
DMM Crampons (Gladiator) £75
Five-Ten Anasazi Blanco (Lace-up V2) Rock Climbing Shoes Size 8/42 £60
Mammut Skywalker 2 Climbing Helmet £35
Please contact me if you would like to see more picture, Thanks Dan
In reply to
succa89:
Please could you contact me as you have selected not to receive emails.
Rik
Hi, I'm really interested in your 4CU's. Please email me if you change your mind about splitting the gear. Cheers.

In reply to
succa89: i'm interested in the vipers but you need to get in touch smartish as i'm off to Spania and limited Internet tomorrow.
In reply to
succa89:
Sorry about that, replies sent out ! Email up and running again feel free to contact me and I'll reply as soon as I receive questions/offers....
In reply to
succa89:
And received, according to my mum. A commendebly fast trade.
I should have asked, you don't have any screws do you?
---
Elsewhere on the site
F ounded in 1993, Mountain Hardwear are a pretty young mountaineering clothing and equipment manufacturer but are also one of... Read more
141216
0
On Saturday 13th December Greg Boswell and Guy Robertson kicked off their Scottish winter season early by making the... Read more
141218
0
The release of Peter Jackson's new film The Hobbit: The Battle of the Five Armies on 12th December may not appear to link to... Read more
141212
0
The Epicentre Mega Winter Sale starts in store 9am Christmas Eve. We have a great selection of in store only deals from... Read more
141218
0
This years ROCfest will be slightly different. We've decided to run a Climbing Festival, not just a competition! Over... Read more
141216
0
---