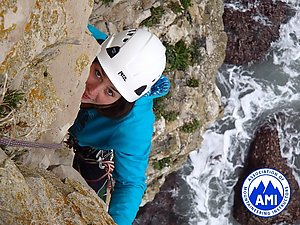 I have been involved with training outdoor instructors for over 5 years and it's something I really love doing.
There are a number of Instructor Training Courses out there these days, but this one is very different to most, with a 1:2 MIA instructor to client ratio.
Instead of focusing on many different activities, we focus on what we know best - Climbing and Mountaineering.
Over the month a maximum of 2 clients will join us to work towards their Single Pitch Award training and Mountain Leader Training which are completed on week 5 of the course. (Assessment may be possible if you have already completed the training).
Because of the low ratio, we will cover far more than just the SPA & ML syllabus, over the month you will build your lead climbing skills and become comfortable on Multipitch routes as well as tackling some of N Wales' finest scrambles.
This is not a "zero to hero" course, but by the end of your time with me you will have received a great grounding ready to start on your outdoor career.
Cost - £1495
Dates - Next Course Starts 1st September 2014
Please visit my website, from where you can contact me with any questions you may have and to receive further info.
http://www.jbmountainskills.co.uk/instructor-training.html
http://www.facebook.com/jbmountainskills