| | |
| --- | --- |
| | / Summit magazine ALPINE SPECIAL: free download |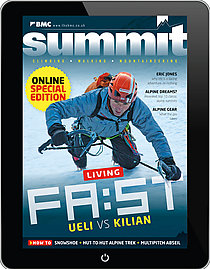 Get a digital dose of mountain inspiration, injected straight to your tablet or phone with our new Summit Extra: Alpine Edition.
To celebrate the launch of our tasty new Summit app, we've created a special edition of the magazine, called Summit Extra: Alpine Edition.
Packed full of alpine climbing and walking articles from recent issues, Summit Extra: Alpine Edition is free to download for all BMC members, or just £2.99 to non-members.
BMC MEMBERS CAN DOWNLOAD IT FOR FREE
To download the Summit app (for iOS and Android). Search for "BMC Summit" in the app stores or follow these links:
Download the Summit app in iTunes
https://itunes.apple.com/us/app/summit-magazine-climbing-walking/id850480265?mt=8
Download the Summit app in Google Play
https://play.google.com/store/apps/details?id=air.com.yudu.ReaderAIR4536603
Click on MEMBER LOGIN at the bottom right of the welcome screen.
The username is your BMC-registered email
The password is your membership number.
Not got an iOS or Android device?
View it in your browser instead
http://content.yudu.com/A2y3i9/SummitAlpineSpecial/resources/index.htm?referrerUrl=
For more information about the Summit app go to
https://www.thebmc.co.uk/summit-magazine-free-to-download-for-all-members
In reply to
BMC Office:
Would prefer ink on paper, which won't do my eyes in staring at a screen?
This would occupy a prime position on my coffee table, as a high gloss, stapled, highly professional magazine, with such a cover as to lure the non climber (alpinist) to pick it up and flick through the pages whilst talking over the top of the magazine, unable to take their eyes off the splendid photographs within, whilst still conversing.
What !
Electronic Only !
D'oh !!!
Spirit of the age, I guess.
I could print (at work of course) a copy and place on said coffee table,
except....
a) would be a cheap and nasty version
b) I'm not a member of BMC, so can not access it
Post edited at 06:58
In reply to
BMC Office:
Duly noted....
...but a glossy hard copy Alpine Special Issue would sit on top of the four "run of the mill" issues. (On my coffee table at least).
What I am saying is.... a special issue is *special*.
I still have a few Newsweek Special Issues, but have not kept any of the 52 times a year weekly issues.
---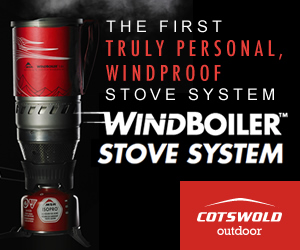 Elsewhere on the site
With four photos in this week's top ten, and a UKC gallery of stunning images we thought it was time we had a chat with... Read more
141203
0
Perhaps the perfect Xmas gift for the climber in your life... Wild Country's Crack School has two of the worlds best crack... Read more
141219
0
F ounded in 1993, Mountain Hardwear are a pretty young mountaineering clothing and equipment manufacturer but are also one of... Read more
141216
0
Rock shoes stink – let's face it. Boot Bananas are the perfect way to fight the funk and keep them fresh. They help... Read more
141219
0
Tonight's Friday Night Video features the Norwegian town of Rjukan, once believed to be the home of the world's tallest... Read more
141219
0