| | |
| --- | --- |
| | / NEWS: British Team Ski Mount Damavand - Iran |
This topic has been archived, and won't accept reply postings.
On Saturday 19th March a British team climbed and made what is believed to be the 2nd British ski descent of Mount Damavand, Iran.
Mount Damavand (5671m) is the highest mountain in Iran and the Middle East and is the highest volcano in Asia.

Read more at http://www.ukclimbing.com/news/item.php?id=61179
In reply to
UKC News:
We had a really great trip and experienced genuine warmth from the people who looked after us, and who we met.
Iran is such a country is contrasts, and (politics aside) probably one of the safest places I've ever been. There is no international tourism within the country, and we had people saying to us things like "can you see we're not all terrorists!". It was these friendly warm people that really made the trip great.
The mountains are incredible, and the snow is ice cold light fluffy powder. There are so many unclimbed routes lines to ski, you could get loads done over a couple of months. All in all, highly recommend it.
Thanks to the Iranian Mountaineering Federation for all their help, if anyone is interested in visiting drop one of us an email and we'll pass on their details & info etc.
In reply to
Scott_M@c:
Nice one Scott, thanks for the report and the beautiful photos you all brought back with you. It looks like a lovely trip!
I lived in Azerbaijan for a while, and spent a lot of weekends out in the middle of nowhere there, and found the people to be really friendly too! The closest I got to Iran was a place called Masali, a short hop from the border, but I'd love to visit Iran one day...
All the best
Tony
In reply to
Scott_M@c:
Looks brilliant guys, look forward to the main trip report and more of Henry's photos.
(Good to see my old jacket getting out and about too Scott).
Cheers
Stuart
In reply to
biped:
Cheers,
I think we've all written at least some of the trip up on our blogs now.
http://jr-climbing.blogspot.com
and Scott's
http://www.fightgravity.co.uk
I'm sure Henry is doing something more formal for various things. If anyone wants any beta on going for themselves then get in touch. I can promise you the trip is worth the effort, even just for the side country in resort!
---
This topic has been archived, and won't accept reply postings.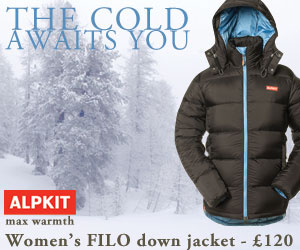 Elsewhere on the site
Rock shoes stink – let's face it. Boot Bananas are the perfect way to fight the funk and keep them fresh. They help... Read more
141219
0
The release of Peter Jackson's new film The Hobbit: The Battle of the Five Armies on 12th December may not appear to link to... Read more
141212
0
Perhaps the perfect Xmas gift for the climber in your life... Wild Country's Crack School has two of the worlds best crack... Read more
141219
0
Tonight's Friday Night Video features the Norwegian town of Rjukan, once believed to be the home of the world's tallest... Read more
141219
0
F ounded in 1993, Mountain Hardwear are a pretty young mountaineering clothing and equipment manufacturer but are also one of... Read more
141216
0