| | |
| --- | --- |
| | / NEWS: Everest Video Double Bill - Kenton Cool |
This topic has been archived, and won't accept reply postings.
A video of Kenton Cool on his tenth ascent of Everest and a video interview with sherpa Pemba Janbu.
Penba voices his concerns over safety on Everest, the lack of experience of many of the climbers, and also the attitudes toward risk.

Read more at http://www.ukclimbing.com/news/item.php?id=67166
In reply to
UKC News: In regards to the second video with Sherpa Pemba Janbu, it is refreshing to hear the opinion of someone directly involved with leading and working at high altitude though a couple of things made me think.
"Climbers actually say, "I've paid $50,000. You are here to work for me, and you have to accompany me," in response to such suggestions.
So then I have to put my life at risk and continue the climb because of the client's insistence."
Surely every client will at some point eventually back down after meeting a consistent wall of authority saying 'you are going no further'. If someone decides to up and go on by themselves despite hearing those warnings, how much responsibility does the company/ Sherpa have from that point onwards?
"Also, the mountain itself is losing its value.
Just about everyone seems to want to climb it by paying a Sherpa who will ensure reaching the summit."
Is this a hint that the people themselves who rely upon the income generated from high altitude work would like to see a rise in 'alpine style' or unsupported attempts? Is it ethical to deny people work as a result of attempting a route or summit in a 'clean' fashion?
In reply to
UKC News: Kenton Cool? Is that even his real name? Where's his oxygen mask?
The interview with Pemba Janbu is the best thing I've seen on here in a long time. A poignant statement about Everest, about the repulsive side of modern capitalist 'civilisation' and about the people it churns out who know "the price of everything and the value of nothing" (Oscar Wilde)

The first video seemed the exact opposide. Corporate sponsorship for a stunt to promote a corporately sponsored event. That ascent should have had value. Instead it had a price.

In reply to
r0x0r.wolfo: They take oxygen tablets nowadays, much more efficient.
---
This topic has been archived, and won't accept reply postings.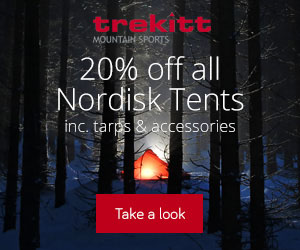 Elsewhere on the site
Tonight's Friday Night Video features the Norwegian town of Rjukan, once believed to be the home of the world's tallest... Read more
141219
0
With four photos in this week's top ten, and a UKC gallery of stunning images we thought it was time we had a chat with... Read more
141203
0
F ounded in 1993, Mountain Hardwear are a pretty young mountaineering clothing and equipment manufacturer but are also one of... Read more
141216
0
Rock shoes stink – let's face it. Boot Bananas are the perfect way to fight the funk and keep them fresh. They help... Read more
141219
0
Perhaps the perfect Xmas gift for the climber in your life... Wild Country's Crack School has two of the worlds best crack... Read more
141219
0