| | |
| --- | --- |
| | / big wall guided climb |
This topic has been archived, and won't accept reply postings.
what are your views on being guided up a big wall route in yosemite?

i think that if you are young fit and capable you maybe should do it yourself for the greatest scence of achievment.

in my case, ive climbed for over 30 years in the uk and europe and at one point even managed to pull myself up E3's now and then, trouble is now that family commitments and finances mean im a position to do a big wall i am not as fit or capable as i was.

question is should i pay a guide to help out or just accept that ive missed the boat..


















In reply to
cballard: doing a big wall , in this case el capitan, is a really cool experience, hardly comparable to climbs in the alps, so I would definitely go for it.
If you can lead E2, have enough experience placing pro ( what you have), the only other thing you need is figure out the techniques for hauling, jugging ... and build up enough motivation to keep going up after a ( usually ) hard first day. Higher up, it's getting easier as systems are dialed, bags get lighter and the top out gets closer:
your freeclimbing grade is pretty irrevelant for aidclimbing only routes, experience in managing complex belay situations etc is important. for zodiac, climbing shoes are not a must , so ...
my advice:
get a book on big wall techniques, practice some aidclimbing to move efficently, and for about half the money you pay for a guide you can buy the extra gear you need.pick a trade route to start with , best having easy hauling, Zodiac or tangerine trip are good routes to start with: short , steep and not too difficult/tricky.
Lurking fear is easier but the hauling is a pain and it's not the typical bigwall ( more slabby)
the nose, triple direct and salathe are great routes, but more free climbing, longer and thus logistically a bit harder
so yes, do it!
In reply to
cballard:
Only guides working for Yosemite Mountaineering School can work LEGALLY in the Valley. Check their prices - at $4466, it's very expensive. Others do it illegally. Also, it's worth checking what your rôle would be - it could well be that you would be expected to Jumar the whole thing. Try putting your post on the Yosemite-centric SuperTopo and see what comes up.
Have a look at ElCap Report (it's finished for the season now) as Tom put up some photos of a Brit being guided around 15th June or so. Look for the name of the guide, Scott Stowe.
In reply to
jon:
that's outrageous.. are you suggesting that guides actually work illegally in the valley sans wee pin?
---
This topic has been archived, and won't accept reply postings.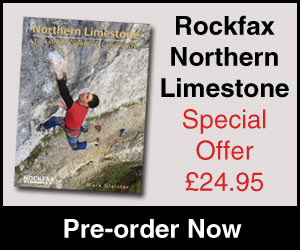 Elsewhere on the site
Perhaps the perfect Xmas gift for the climber in your life... Wild Country's Crack School has two of the worlds best crack... Read more
141219
0
Rock shoes stink – let's face it. Boot Bananas are the perfect way to fight the funk and keep them fresh. They help... Read more
141219
0
F ounded in 1993, Mountain Hardwear are a pretty young mountaineering clothing and equipment manufacturer but are also one of... Read more
141216
0
Tonight's Friday Night Video features the Norwegian town of Rjukan, once believed to be the home of the world's tallest... Read more
141219
0