| | |
| --- | --- |
| | / bouldering mat |
This topic has been archived, and won't accept reply postings.
ive finally decided to start climbing outside so im looking at pads money being an issue i was looking at a evolv wingman pad.I know the are not designed to be used as a first pad but i really cant afford a proper one so is the wingman type better than nothing.
In reply to
kev74: The Wingman is very thin and I really wouldn't fancy falling onto it from much of a height. If you can, I'd wait and save up for a cheap pad like the Alpkit ones. Keep an eye on the pads for sale on here and at your local wall. I think you'll be wanting to upgrade pretty soon if you buy the wingman so worth waiting and getting a proper pad instead i reckon.
In reply to
kev74:
Alpkit is the cheapest pad for value on the market - the wingman is not really a pad but a mat.
Alpkit for value
Moon for quality is the general concensus (I mean general some will disagree - and new pads are out all the time)
Decathlon have a Simond pad out give that a look
In reply to
kev74:
The new Alpkit pads are very good and without a doubt the best pads you can get if you're on a budget!
Go for an Alpkit, I had a "phud" for a while, Cost me £60 and has lasted my first year of abuse with ease. You may even get a second hand one cheaper if your lucky! They are good pads but in the heat (26+) they tend to warp a little, goes back to normal though. Also quite good to sleep on!
The newer Alpkit one look great but I think I'm going to get a DMM highball next as they are indestructible and probably the best I've used.
have fun
max
In reply to
kev74:
I've got an alpkit phud and it's done me proud. I also picked up a nice large one from the for sale forum here, definitely worth keeping an eye on. They come up on ebay on occasion too.
You should be able to get something for around £100 I'd imagine, don't skimp though, especially if you're just starting.
---
This topic has been archived, and won't accept reply postings.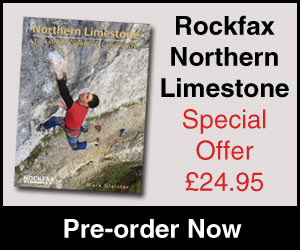 Elsewhere on the site
F ounded in 1993, Mountain Hardwear are a pretty young mountaineering clothing and equipment manufacturer but are also one of... Read more
141216
0
With four photos in this week's top ten, and a UKC gallery of stunning images we thought it was time we had a chat with... Read more
141203
0
Perhaps the perfect Xmas gift for the climber in your life... Wild Country's Crack School has two of the worlds best crack... Read more
141219
0
Rock shoes stink – let's face it. Boot Bananas are the perfect way to fight the funk and keep them fresh. They help... Read more
141219
0
Tonight's Friday Night Video features the Norwegian town of Rjukan, once believed to be the home of the world's tallest... Read more
141219
0