We all know that you should clip the first and second bolts at around waist height, to minimise the potential for a ground fall, but I thought I'd do some maths to figure out the effect of reaching too far to make a clip. This maths was surprisingly straightforward.
So assuming you fall off at the worst possible moment, with all the slack you need to make the clip:
1. If you reach a distance r above your belay loop to make the clip, the extra distance you fall below the last bolt is exactly r.
2. The total distance you fall is always 2*b (plus belayer slack and rope stretch), where b is the spacing between bolts.
Result (1) is (almost) independent of rope stretch and belayer slack, and means if you try to clip the second bolt at max arm stretch (about 1.2m above the belay loop for me), you'll end up 1.2m lower than if you tried to make the clip at waist level and fell off.
Result (2) means that after say the 3rd bolt, it makes no difference how far you reach to clip the next bolt -- you're only risking the same fall
distance.
The calculations are shown in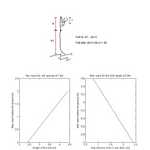 http://www.ukclimbing.com/images/dbpage.html?id=206460
. I've also plotted the maximum reach above your belay loop you can make before risking a groundfall, for various values of the height of the first bolt and the gap between the first and second bolts. The calculation is:
height-you-fall-to = b1 - (b + r + slack + stretch)
where b1 is the height of the first bolt, and b is the bolt spacing after that. The location of the climber is where their belay loop is, so I've assumed a groundfall is falling to 0.9m (so their feet will just touch the ground), and slack + stretch together come to 0.5m. The 0.5m is probably optimistic, but early on the route the belayer should be being very attentive, and there shouldn't be much rope out hence not much stretch.
Apologies for over-analysing all this, hope some of you find it interesting, and the ones who are bored stiff have stopped reading before here ;)