| | |
| --- | --- |
| | / Sat Map Active 10 Versus Garmin GPSMAP 62stc or st |
This topic has been archived, and won't accept reply postings.
Going to invest in one of these little babies for this winter. Has anyone got any thoughts/experience of using them in the lovely weather we can expect in the Scottish hills during winter?

I know SARDA people get issued with them and wondered if they had any thoughts either.


In reply to
Cliff Lowther:
We have both. They both have pro's and cons, but most of the cons in my experience are due to my error with the SatMap, turning up in Snowdonia with a Peak District mapping card, and running the battery out on 2 occasions.
This is because I'm more familiar with the Garmin and find the logic harder to understand and relate to on the SatMap. I know others would disagree. My advice would be go to a shop who has both and see which one you understand best!
Have you considered the etrex 20? Smaller screen but does the job.
mike
In reply to
Cliff Lowther: The Satmap eats batteries... even the optional Li-Ion one. But is a great bit of kit. I don't have any maps for it just use the 1:50 that comes on it. But have my route mapped in it... On dangerous mountains I also have cliff edges etc mapped as well.
Cheers
Euge
In reply to
Cliff Lowther: SatMap 10 - the LiPol battery is OK, lasts for a long day, 10 hrs, BUT the connector is Heath Robinson pathetic.
They initially sold it as waterproof then backtracked and said Weatherproof, its OK in a case in rain but I would be concerned if it got soaked. It feels a bit like a PDA with a plastic case.
Two significant problems:
It has a clear plastic cover clipped over the screen and this makes it very hard to read in sunlight and impossible in direct sunlight.
If you save the route you have just done it creates loads of Waypoints and then displays each of these as solid yellow circles which obliterate the map detail. Daft since they did an up date to allow you to make the route line transparent.
It came out over 4 years ago and the hardware has not been improved and does need:
a. Better waterproof / rugged design so you do not have to put it in their huge rubber case.
b. Readable in sunlight
c. Proper battery connector
d. Weather proof screen that only needs a plastic film cover not a complete thick plastic screen.
But having said all of that it is still I think the best one on the market for now.
It really is due a Mk2 hardware.
Thanks guys...really helpful what has been said so far...Interesting that most seem to be talking about the SatMap and not the Garmin.

Looking forward to hearing more

Cliff
In reply to
Cliff Lowther: Hi I've had the sat map for about nearly 4 years now. The hard plastic screen scratches easily and as others have said is a bit of a pain in sunlight (but then so are all screens) I dont bother with it just use one of those stick on screen protectors on the main screen and have had no problems.
Not sure about the yellow circles mentioned above, on mine if you want waypoints you have to put them in though personally I never bother. If I put a route in it shows as a solid yellow line which I can turn off if I don't want it.
Rubber cover on charge point has torn off - though still clips in place when I remember to put it on. The tip of the joystick has also pulled off but doesn't affect its use. Ive used it in all weathers including pouring rain on the exposed bike bracket and never had an issue. Its been dropped bumped and banged around, I'm sure there is a little less protection on the screen than there should be without the hard cover but it's never been an issue for me. I've also never used its case - it is just a hassle, the unit is either in a pocket or clipped onto the bike mount.
I cant comment on the garmin product, at the ime I bought mine, Sat Map were the only ones doing OS mapping so I didn't even bother looking at anything else. It has some features that I'd change but basically does what it says on the tin - a digital OS map with a handy little blue dot to show you where you are on said map.

In reply to
spearing05: Thanks for that!!! Sounds like a more realistic review of the SatMap features...
---
This topic has been archived, and won't accept reply postings.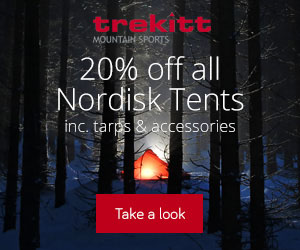 Elsewhere on the site
This Winter Conditions page gives a summary of what is being climbed at the moment, what is 'in' nick and what the prospects are... Read more
F ounded in 1993, Mountain Hardwear are a pretty young mountaineering clothing and equipment manufacturer but are also one of... Read more
141216
0
Perhaps the perfect Xmas gift for the climber in your life... Wild Country's Crack School has two of the worlds best crack... Read more
141219
0
Rock shoes stink – let's face it. Boot Bananas are the perfect way to fight the funk and keep them fresh. They help... Read more
141219
0
Tonight's Friday Night Video features the Norwegian town of Rjukan, once believed to be the home of the world's tallest... Read more
141219
0
At a bar in Llanberis an old man chimed in And I thought he was out of his head Being a young man I just laughed it off When... Read more
141203
0
---