| | |
| --- | --- |
| | / Free/cheap parking for Cairngorms |
This topic has been archived, and won't accept reply postings.
Hi all,

I'm heading up to the gorms on Sunday for a multi-day camping trip and I'm after some suggestions on where's best to park. I'm going to be there from Sunday till Thursday (4 nights). If at all possible I'd prefer if it was free or cheap but I don't know how feasible this is. Last year I left it at the Linn of Dee but I seem to remember it worked out quite expensive. No solid plans on a route yet so I'm fairly flexible on where I go but would be particularly interested on the parking situation at the ski center, I couldn't seem to find anything on their website regarding it. Apologies if this has been asked before, the only post I saw was about overnight stay at the ski car park (not multi-day). Any advice would be greatly appreciated.
In reply to
SeasonalDrip:
Linn of Dee is a £2 contribution and despite the signage not being entirely clear (it states £2 for a days parking)I'm pretty sure someone from NTS stated they did not expect people to pay for multiple days.
The ski centre ask for a contribution, again around the £2 mark.
I parked at the sugar bowl for my last trip and i'm pretty sure there was no contribution asked for, or if there was i didn't notice it.
In reply to
nickyrannoch: There is a (new?) pay and display machine at the Sugar Bowl. It even takes credit cards - so no excuses about lack of change. I don't know if it's enforceable or not but didn't take the risk on a recent visit.
In reply to
SeasonalDrip:
Ah great stuff, thanks for the info guys. Much appreciated
In reply to
nickyrannoch: Linn of Dee isn't enforcable.

In reply to
Dan Bailey - UKHillwalking.com:
We were assured that the Glenmore Estate parking charges were not enforceable, but the source of this info was being accused by his wife of bragging about it in front of the wrong company!
---
This topic has been archived, and won't accept reply postings.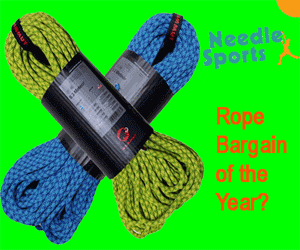 Elsewhere on the site
Climbing Technology's range of winter hardware continues to grow and for winter 2014 they have a crampon in the range to... Read more
141217
0
This years ROCfest will be slightly different. We've decided to run a Climbing Festival, not just a competition! Over... Read more
141216
0
With four photos in this week's top ten, and a UKC gallery of stunning images we thought it was time we had a chat with... Read more
141203
0
F ounded in 1993, Mountain Hardwear are a pretty young mountaineering clothing and equipment manufacturer but are also one of... Read more
141216
0
Steve Dunning has made what is likely the tenth ascent of The New Statesman, the classic and bold gritstone arete at the Cow... Read more
141216
0