| | |
| --- | --- |
| | / Smartphone advice & GPS |
This topic has been archived, and won't accept reply postings.
I've been using a clunky old nokia mobile for many years and never been fussed about getting a Smartphone, principally because I'm too much of a scrooge to outlay the money every month. However, I think the time has final come and I would like some advice please.

Principally want one for all the usual smartphoney stuff – text, calls, web browsing etc, but also having recently stepped up the amount of running and cycling I do, I want one with a decent GPS so I can use one of the various mapping/logging apps. Already use my ipod for browsing/apps etc, but no GPS or I'd probably stick with that. Not bothered about the latest phones, as don't really want to spend more than £20-25 a month.

Was thinking of either a Samsung SII (but I hear the GPS can be a bit iffy?) or an iphone 4S, or possibly an HTC but not sure what model.

So couple of questions - do people find the android to be better/worse than IOS, or is it horses for courses? Is the GPS quality noticeably better/worse on any modern smartphone? And is it worth getting a slightly older model (i.e. iphone 4s/ galaxy SII) or will I regret it when bearing in mind standard seems to be 24 month contract these days?
In reply to
Phil79:
You could buy a pay-as-you-go smart-phone and as such not worry about a monthly contract of £20-25 per month. This does have its benefits provided you don't want to do a lot of internet surfing with a 3G contract. You can still surf on your phone with a WiFi signal though for free provided you have permission such as at home or a free HotSpot. :-)
You can get some excellent smart-phones cheap if you bought them outright. For example, last year my Samsung Ace was priced just under £200 to buy but now you can buy them for around £60. As it is my phone is on a 2 year contract and in 12 months, it will be mine and by then I will have payed Virgin Media £312 for the privilage a contract.
I have to admit that my phone does not have the whistles and bells of a Samsung S3 but I can make it do anything I want, including using the GPS feature to pin-point where I am on a digital OS map. And I still get access to the same apps as all the other Android phones on Google.play site.
The GPS signal is very accurate on my Samsung Ace, the battery life is shite though, especially when using GPS. This isn't a problem if you are running/cycling around for a few hours and even if you are out for longer it only takes a few seconds to pop in a fresh battery which cost a couple of quid to buy.
I never knew how useful a smart-phone was until I played with mine for a year. During that time I discovered new and exciting ways to use it beyond my initial purpose of GPS mapping while walking on the hills.
In reply to
Phil79: Don't bother with an HTC. The GPS is hopeless, as is the antenna. I have just been upgraded to a Galaxy Note 2 and the call to my mum was cut off three times. It may be a fault, but my old HTC did the same. I get my fancy phone from work so am not that bothered, but I have concluded that if you need a phone for phoning people, smart phones are generally hopeless, especially in the hills. The internet is better on some form of PC and sat nav is the thing to use if you need GPS functionality.
Smart phones I have concluded are a all right at most things but excel at nothing.
In reply to
EeeByGum:
Fair point - I don't really want it as a bells and wistles GPS, more as something fairly realible and accurate that I can stick in my pocket to log my runs/rides, with the added advantage that don't need to carry a phone as well.
In reply to
The Lemming:
Yeah, was considering buying phone seperately and going with giffgaff or similar, my wife got a iphone 4 for less than £100 and did just that.

In reply to
EeeByGum:
> Smart phones I have concluded are a all right at most things but excel at nothing.

Wot he says.
I truth I no longer use my phone for mapping as the interest subsided quite quickly.
However I do use my phone for:
1 Listening to Radio 2 while walking the dog
2 Listening to MP3 stored on the phone or my network storage piped to a Bluetooth speaker
3 A remote control for my PC when I can't be arsed to get off the sofa
4 A remote control for my Media Centre when I can't be arsed to get off the sofa
5 Playing casual games while in a queue or waiting around for Miss Lemming to buy something in the shops.
6 Taking photos
7 Taking short movies
---
This topic has been archived, and won't accept reply postings.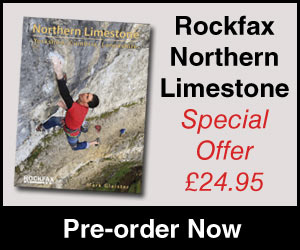 Elsewhere on the site
This years ROCfest will be slightly different. We've decided to run a Climbing Festival, not just a competition! Over... Read more
141216
0
On Saturday 13th December Greg Boswell and Guy Robertson kicked off their Scottish winter season early by making the... Read more
141218
0
At a bar in Llanberis an old man chimed in And I thought he was out of his head Being a young man I just laughed it off When... Read more
141203
0
F ounded in 1993, Mountain Hardwear are a pretty young mountaineering clothing and equipment manufacturer but are also one of... Read more
141216
0
The Epicentre Mega Winter Sale starts in store 9am Christmas Eve. We have a great selection of in store only deals from... Read more
141218
0