| | |
| --- | --- |
| | / abseiling with a single rope and a tagline |
This topic has been archived, and won't accept reply postings.
I was just pondering over this and wondered If anyone has any techniques/ tips?

In the past when I have Abseiled off using a tagline I have simply joined my rope and tagline by figure of 8ing them to a screw gate and as I have been abseiling off mallions I have simply relied on the large size of the screw gate jamming against the mallion, and then retriving my rope with the tag line.

I know this isnt really ideal and I was also wondering how people abseil directly off for instance an abolakov thread with a tag line set up. So what are other peoples methods for abseiling directly off tat using a tagline?
cheers.
In reply to
Ginger McGrath:
tie them together, clove hitch a krab to the main rope, clip rope back onto itself around the v-thread/whatever. make sure the tag line + knot is on the 'pull side'. off you go.
if youre strapped for krabs can also attach the rope back on itself with a loop (tied with a bowline or fig8 depending who you argue with).
as it goes, the screw gate jamming against the maillon is considered fully acceptable to the international canyoning commission (the most anal rope work people ive ever come across). they suggest clove hitching a largee HMS for the job.
In reply to
Ginger McGrath:
Cavers don't bother with a krab and just use a jammed fig. of 8 knot at the mid point of a rope on pull-through abseils off fixed gear in caves (which is basically the same thing as using a tag line for retrival.) I've done it many a time and seems perfectly safe. I believe it's a fully approved method by the BCA, another organisation not known for its lack of anality.
Dave
In reply to
Ginger McGrath: 2 people abseil. 1 st man ties of fat rope and raps down it dragging the other. Down as he Goes. Finds stance grabs both ropes and stops them running unevenly. 2nd man undoes.tie off raps as normal. Fairly sure I did a.variation.of.this.in yosemite a few years.ago though maybe not as text book. I wouldn't abseil.with anything on ends.for.fear of sticking the rope.

In reply to
Ginger McGrath: I use a 6mm Kevlar rope now and just use it like a normal rope but before that we used to tie the two ropes together (figure8's through each other). If there is no mallion then we would make a small loop of cord only big enough for the fat rope to go through.
---
This topic has been archived, and won't accept reply postings.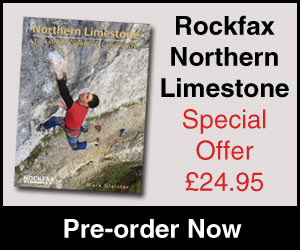 Elsewhere on the site
F ounded in 1993, Mountain Hardwear are a pretty young mountaineering clothing and equipment manufacturer but are also one of... Read more
141216
0
At a bar in Llanberis an old man chimed in And I thought he was out of his head Being a young man I just laughed it off When... Read more
141203
0
Tonight's Friday Night Video features the Norwegian town of Rjukan, once believed to be the home of the world's tallest... Read more
141219
0
Perhaps the perfect Xmas gift for the climber in your life... Wild Country's Crack School has two of the worlds best crack... Read more
141219
0
Rock shoes stink – let's face it. Boot Bananas are the perfect way to fight the funk and keep them fresh. They help... Read more
141219
0