| | |
| --- | --- |
| | / multi day run food advice? |
This topic has been archived, and won't accept reply postings.
Thinking of doing a 4 day trail run this year, going to try and do it self supported and light, so been pondering rations
I was thinking - muesli breakfast, flapjacks and trail mix as snacks throughout the day, sandwich for lunch, chocolate pieces for a boost, noodles + dried veg + sliced salami for tea.
Occasional electrolyte tablet in my water carrier.
Any other suggestions welcomed
Post edited at 09:22
In reply to
ow arm:
Soreen, ideally pre-sliced and spread with full fat Lurpak.
In reply to
JMGLondon:
Ah yes i didnt put that in, no milk products for me.
Ive not had soreen for years, ill try and find a milk free alternative, im sure some supermarkets will have their own malt loaf
In reply to
ow arm:
Couscous - Ainslie Harriott Moroccan Medley for me, with some additional bits of dried sausage (saucission sec, chorizo etc). Instant porridge for breakfast. Jelly babies.
Assumes you have a stove - not sure if your noodles are hot or cold
In reply to
ow arm:
Olive oil for adding to stuff? I'm not an expert, but I was under the impression that oil gives a huge amount of slow-release calories per gram.
In reply to
ow arm:
This looks good to me. I have found that white bagels with some cheese spread are good for lunch; very compact, keep well and are soft, salty and easy to take in.
Dinner option looks good. If you are camping for any of this don't exclude dehydrated meals, which these days are pretty good and save a lot of effort.
A few additional ideas:
- A portion of chocolate Rego made with hot water is a really nice soothing, carb-boosting drink at the end of a really tough day of running. Alternatively, some kind of hot chocolate made up thick.
- Halva is a great pudding or snack if its cold/hard/long - ridiculously calorie dense, comes in loads of flavours and is very easy to eat. Also is slightly alkaline so helps settle your stomach etc if you're feeling a bit queezy.
- If it's hot, you can find yourself craving something refreshing. I've found that the squeezy pouches of fruit compote sold either as breakfast or baby food are great; slightly tart, real food' flavour, and the packets can be resealed.
Don't forget enough coffee/tea etc as you prefer, and an extra few portions to keep you warm and motivated if the weather craps out.
Enjoy!

In reply to
ow arm:
oooh forgot about chocolate halva, glad I asked now, its usually milk free also which is a bonus.
---
This topic has been archived, and won't accept reply postings.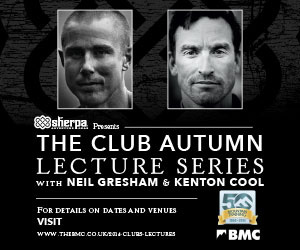 Elsewhere on the site
At a bar in Llanberis an old man chimed in And I thought he was out of his head Being a young man I just laughed it off When... Read more
141203
0
Perhaps the perfect Xmas gift for the climber in your life... Wild Country's Crack School has two of the worlds best crack... Read more
141219
0
Rock shoes stink – let's face it. Boot Bananas are the perfect way to fight the funk and keep them fresh. They help... Read more
141219
0
F ounded in 1993, Mountain Hardwear are a pretty young mountaineering clothing and equipment manufacturer but are also one of... Read more
141216
0
Tonight's Friday Night Video features the Norwegian town of Rjukan, once believed to be the home of the world's tallest... Read more
141219
0
---