| | |
| --- | --- |
| | / Advice on MIA |
This topic has been archived, and won't accept reply postings.
I am considering a change in career and thinking about working towards the ML & MIA qualifications. I would like to find out more about what the work is like and how much work is available. Are there any instructors who would be willing to give me an insight into the job? Perhaps just a quick email or two?

Thanks,
Adam
In reply to
adam 24:
Do you like people? 95% of the job is communicating, understanding, finding the common ground, facilitating your client's aspirations, having a laugh with, entertaining, caring, being interested, carrying a conversation, etc..........
If you can do the above in a group setting, as well as all the background tasks of actually mountaineering, you stand a chance as a good instructor.
Work comes from reputation and recommendation in the main. Good luck!
Adam
In reply to
adam 24:
I am in the process of gaining the MIA. I think you need to ask yourself why you think you want to head in a similar direction. Are you a people's person? Do you have the ability to teach a varied client base a multitude of skills? Do you want to vie for limited work in a competitive market? If yes then join the queue and get on it.
Perhaps I'm being rather simplistic. The scheme is a lot harder to gain than most people think. It's not just a case of going climbing doing a course and being successful at the assessment. You need to have a genuine reason to do it - its not just so you can tell people you are an MIA, which is the impression I get from a lot of people who say they want to join the ranks, as it were.
It's a full time job looking for work - I spend far too much time checking emails, cruising the internet, sending speculative emails, responding to emails, networking, going to company induction courses all without guarantee of a wage at the end o f the month.
I know it reads like I'm trying to put you off but I am not - if it was that bad I'd not be doing it but if I wasn't a qualified teacher doing short term supply, I'd be unable to afford to keep at it.
Network - It takes time to build up a name for yourself and being known is often more important than qualification in this industry (though being qualified is a necessity).
Soft skills - can you deal with most types of people? Most of my freelance work is with kids and I most certainly wouldn't be doing this job if I didn't like them. You also have to deal with adults with various agendas, issues and ulterior motives.
Competence- being able to climb e3 doesn't mean you will make a good MI. Being a good teacher will. Being able to tie all the knots behind your back blindfolded also doesn't mean you'll make a good MI. Being a reflective teacher will help but its a lot more than this.
Leadership - working as an ML, you have to be able to lead from the front, side and rear, a group of teenagers with various states of behavior problems in all weather and still be able to keep smiling even though you just want to go home.
Cost - its not cheap to gain the qualifications but its not prohibitive when you look at other industries. You should look at how you intend to subsidise your pathway. I am lucky enough to have a very understanding partner who has a good job. You realistically won't start earning straight away especially as a trainee so I wouldn't be handing in my notice tomorrow! Treat the qualifications as an investment - how much do you need to earn and can you gain enough work to sustain the cost of working towards the MIA? I.e. is it worthwhile? Most other instructors in this industry have other strings to their bow to make ends meet and there are those who get enough work without - can you work out which ones have a clue about marketing?
I hope this is of some help. It's by no means exclusive, there are many other factors/reasons for wanting to do something like the MIA, just make sure they are the right ones. I wouldn't change my route choice even if I won the euromillions on Friday.
Regards
Anthony
In reply to
adam 24:
Hi Adam,
If you follow this link to my site there's a link on that page to "How I became a mountaineering instructor" which may be of interest.
www.jbmountainskills.co.uk/about.html
There's loads of different aspects to MIA work and various ways into it, but it takes time and effort for you to carve out your niche, probably never ending.
Feel free to send me an email with any specific questions :)
Post edited at 07:55
In reply to
adam 24:
Thanks for all the great information here. I appreciate it is a people job, which is one of the attractions. I currently do an office job and the part of that I actually like is talking with people about what the stuff we do means. I previously worked in education and enjoyed teaching people new skills. I am a bit nervous of working with young children though, I did have some difficult kids while I was teaching.
It's interesting to hear that you spend a lot of time on marketing your services. I have been self-employed in the past, but always had an agent to help find new clients. Jez - thanks for the offer. I will think more about what people wrote hear and read your site then might follow up next week with any Qs.
Have a great Easter!

In reply to
adam 24:
>
> It's interesting to hear that you spend a lot of time on marketing your services. I have been self-employed in the past, but always had an agent to help find new clients.

Aye, there's no agents in the Outdoor industry...yet. I hope they never make an appearance either!
---
This topic has been archived, and won't accept reply postings.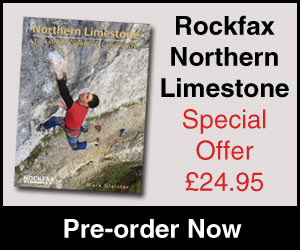 Elsewhere on the site
With four photos in this week's top ten, and a UKC gallery of stunning images we thought it was time we had a chat with... Read more
141203
0
Rock shoes stink – let's face it. Boot Bananas are the perfect way to fight the funk and keep them fresh. They help... Read more
141219
0
F ounded in 1993, Mountain Hardwear are a pretty young mountaineering clothing and equipment manufacturer but are also one of... Read more
141216
0
Tonight's Friday Night Video features the Norwegian town of Rjukan, once believed to be the home of the world's tallest... Read more
141219
0
Perhaps the perfect Xmas gift for the climber in your life... Wild Country's Crack School has two of the worlds best crack... Read more
141219
0