New DMM Alpha Trad Quickdraws
£9.50 - £20, added Sep/2012, see all DMM news & reviews
reviewed by Steve Long
This review has been read 10,155 times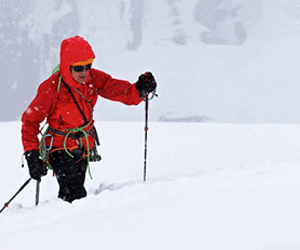 More In This Category
Related UKC Forum discussions
The new flagship hot-forged DMM Alpha karabiners are now available. There are four 'biners in the range - a Trad, a Trad Light, plus two sport versions designed specifically for opposite ends of a sport climbing quickdraw - but the Alpha Trad Light isn't available yet. The Alpha Trad are shaped to make them easy to clip, less likely to reverse clip, and have grippy grooves on the back to make them easier to handle. So how do they perform on the crag? Steve Long tests out some Alpha Trad quickdraws.
---
When offered the opportunity to try DMM's new flagship quickdraws I naturally jumped at the chance, because connected to each end of the quickdraw is the latest in hot-forged karabiner design. Would the Alpha Trad provide the key to the remarkable return to form that I've been planning for the last few months? Alas it would appear that technique, strength and resolve are still the main missing ingredients, but I immediately noticed a reduction in the weight hanging from my gear loops and soon discovered more subtle points that will definitely aid my free climbing for one range and free my aid climbing for the other.
I would recommend purchasing the Alpha Trad quickdraws as ready-made sets. They come in seven different colours (as will the Light version). The gear end karabiner has a silver body, while the rope end has a charcoal coloured body, with five other colours available for those who like to colour co-ordinate karabiners with tape or gear anodising.



Pete Johnson following Eraserhead (E5, Gogarth Main Cliff) showing Alpha Trad in use during testing


© Steve Long, Aug 2012
The other Alphas
As an aside, the Alpha Light (coming soon) will be a slightly smaller and lighter version of the Alpha Trad with similar strength but a narrower gate opening (I doubt whether the 2mms reduction in gate opening will make much difference but a smaller karabiner can be a disadvantage when you're stretching on tippy toes for in-situ gear). I also have some Alpha sport draws on test: the straight-gated 'Pro' is intended for the end that is clipped into runners, while the bent-gated 'Clip' has a very distinctive end curve to the gate. It's mostly straight at the hinge end, morphing into a bulbous hooking end with a soft curve to the inner face and a sharp curve at the opening end, which catches the finger or thumb very effectively for maximum leverage to ease gate opening.
Let's look first of all at the feature that is common to all of these karabiners – the hot-forged body. This manufacturing process allows complex curves to be constructed, allowing different profiles at strategic positions and minimising weight while providing a greater diameter at the important points of contact at either end. DMM specialise in this process and you will already have seen it for example in ice axe shafts, where some sections need to be comfortable to grip and other parts need to balance weight with strength. The I-shaped construction profile, or perhaps a T-shape with varying profiles along the length, is the big advantage over the traditional forge process that tends to produce a uniform oval or circular wire profile. The shaping is dubbed an I-beam profile by DMM, a suitably descriptive title drawn from engineering lingo (used in metal lintels and floor joists for example).
"So do the quickdraws meet my personal wish-list? For the Alpha Trad, the answer is definitely yes..."
The recessed facets this process creates are also used for branding, carrying various embossed text including the manufacturer name and load strengths as well as the model name near the gate. Enough of the technology – all very impressive but what do we actually require from a karabiner-quickdraw combination? My personal main interest is in ground-up 'on-sight' climbing, so my personal wish list is:

Easy to clip into gear, and easy to get the rope into
Reassurance that once the rope and/or runner won't accidentally unclip
Plenty strong enough
Minimum weight
Gentle on the rope

All the Alpha karabiners share the same design characteristics for the main body, which has a distinctive hooked shape with a pronounced bend of about 30º curve to the back bar, allowing the gate opening to be maximised without compromising strength - a gate opening of 25-27 mms. All the models have a gate-closed strength of 24kN (apart from the Alpha Light - 23kN) and a gate-open strength of 9kN, which is pretty strong for snapgates, and reassuring in such a lightweight offering. An Alpha Light pair with the shortest quickdraw (12cms) weighs only 65 grams, which allows a rack of 10 'draws to weigh in at less than 700 grams – that's 25 ounces in old money. A rack of Alpha Trads is only about 10% heavier, which still leaves plenty of room in your baggage allowance! The process also allows other features to be built in: the widest profile is situated at the 'business' ends, ie at the points where the rope runs over the apex and at the attachment point for the quickdraw.





DMM Alpha Trad Silver
UKC Gear, Sep 2012
© DMM


DMM Alpha Trad Purple
UKC Gear, Sep 2012
© DMM
The bottom karabiner is held very effectively in a downwards, hooked orientation by means of a tight rubber insert within the tape loop, which should protect the rubber for a longer life expectancy, though on the downside the rubber can't be replaced if it perishes. The tape prevents movement so effectively that it's very difficult to forcibly rotate the karabiner. With older karabiners I would regard this as a disadvantage because I often rotate the karabiner after inserting the rope in order to prevent the rope unclipping itself. But the design of the karabiner virtually eliminates this fear, removing a tendency to 'faff' with the gear after clipping: firstly the apex is such a pronounced hook-shape that the rope falls effortlessly into place. This is a lead climber's karabiner body design: once clipped it stays clipped! The second, on the other hand, will be less thrilled because the aggressive hook shape makes these karabiners slightly harder to unclip from the rope or a bolt in a hurry.
"Each side has a unique curve that directs the live rope away from the opening in the event of a fall..."
DMM Alpha Trad
Available with 11mm Dyneema sling in 12cm, 18cm or 25cm lengths
Features:
Full size clean nose wire gate biner
Strong and lightweight I-Beam construction
Safer, deeper rope basket
Easy to handle, grippy shape
Generous 8.5mm rope radius
Clean nose profile to reduce snagging
Available as an 11mm Dyneema quickdraw in 12cm, 18cm or 25cm lengths
Weight:
Alpha Trad 'biner: 35g
With 12cm QD (11mm Dyneema): 80g
Prices:
RRP £9.50 Single biner
£19 with a 12cm draw
£19.50 with a 18cm draw
£20 with a 25cm draw
And there are some other, more subtle factors that add to the reliablity of this karabiner to keep the rope in the strongest and most reliable configuration to hold a fall. The wire gate is cunningly designed, with an asymmetrical and quite complex set of curves on each side of the loop that balance ease of opening neatly against a crisp spring closure. Each side has a unique curve that directs the live rope away from the opening in the event of a fall. The closure mechanism is an internal recessed plug that replaces the hook found on many gate-closures that can trap a wire or the rope and prevent the gate fastening properly, leading to a gate-open situation in a fall. The net effect is that three rare but real risks are effectively eliminated:

1. The rope or a wire getting caught in a closure hook can prevent the karabiner shutting and therefore result in a gate open impact force. No closure hook = no fear of this problem.
2. The live end of a rope can itself into a karabiner in the event of a fall and thus release itself from the karabiner (i.e. instead of looped over the karabiner base, both sides of the loop run through the krab). This peace of mind has got to be worth a grade or two when you're at your limit!
3. A similar but related issue is the problem of snapgates releasing if two are clipped together and twisted – you're probably aware that clipping two quickdraws together is "frowned upon" by instructors for this reason. But I've tried this with Alpha Trads and its virtually impossible to replicate this effect – although this is not the case with the Alpha Sports which twist apart just like any other karabiner – so use a longer quickdraw to reduce rope drag on Sport climbs!

Alpha Trads have quite a stiff gate, and I think that there are rare occasions when it might be difficult to open them for a 'gripper-clipper' situation - though all wire-gate krabs have this limitation. The asymmetrical design of the karabiner means that if you open the karabiner with your left hand, it is slightly more difficult to get a good purchase at the opening end – the finger tends to slide toward the hinge, requiring more force to open. At your limit, with hands cramping this could be an issue for clipping a wire (a peg or bolt is easy – you just shove the gate into the eye). However, I have an easy solution for this; just use your thumb to open the gate instead of a finger.

There is another, minor drawback to the design, which is only an issue with micro-wires and the occasional in-situ hanging tape – the slightly bulbous nose shape can make it slightly harder to clip the runner, however I think the advantages of the clean profile far outweigh this last consideration. A limitation that I've noticed with all the Alpha karabiners is that the aggressive hook shape can make it difficult to clip them into in-situ gear at full-stretch, as the krab needs to be tilted backwards in order to set the right (ie fairly horizontal) trajectory for clipping a bolt hanger – it's less of an issue for ring bolts. But for peace of mind knowing it will stay firmly clipped I think that it's a small price to pay.

The quickdraws have a very low profile at only 11mms in width, and available in 12cm, 18cm or 25cm lengths (with different coloured tape, allowing quick visual selection for the correct length). Personally I'm not too keen on the 25 cm version: I prefer the versatility of a 60cm sling tripled around two karabiners, so that it can be used either as a 20 cm extender or fully opened. However, the shorter quickdraws are excellent and the afore-mentioned rubber insert at the rope end (with the charcoal coloured karabiner) work perfectly for easy clipping. I would like the top karabiner to be held more firmly to rotate a little less freely, but this is a matter of personal taste. I should add that the karabiner body is shaped to work most effectively with a narrow tape, unlike the Alpha Sport, which is designed to work with wider tapes.
Summary
For on-sighting I think the Alpha Trad is the state of the art for both natural protection and sport climbing.
---


Steve Long at Lotus Summit


UKC Gear, Jan 2012




© Steve Long Collection
Steve Long
Steve Long is a qualified mountain guide, works for the MLT and is an extremely experienced instructor and climber. He has produced a DVD aimed at recreational climbers - Self Rescue for Climbers - which is a comprehensive guide to solving problems encountered in such situations as multi-pitching in the mountains, sea cliffs or roadside crags.
UKC Articles and Gear Reviews by Steve Long: