Click to view latest messages in all forums

This topic has been archived, and won't accept reply postings.
Topic - KMF PROFILE / Competition: Steve McClure + Lucy Creamer
by - UKC Articles
on - 27 Sep 2010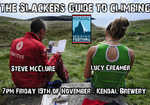 Marmot Presents: The Slackers Guide to Climbing
Featuring: Lucy Creamer, Steve McClure and presented by John Horscoft
When Adam Ondra makes a special trip during a dismal summer to try your routes, you know your
reputation has transcended the tight-knit British climbing community. Equally, if your hardest ever
ice route has had to be bolted before anyone else will climb it, you know it has to be nails. Steve
McClure's routes at Malham and Kilnsey received the ultimate accolade this year when Ondra
confirmed the grades, even hinting that they were pretty stiff. Lucy Creamer's Mighty Aphrodite in
Colorado is still regarded as one of the hardest mixed routes ever climbed by a woman...

Read more at http://www.ukclimbing.com/articles/page.php?id=3040
... not showing 18 replies to this topic ...
Register as a New User or login to gain full access to the forums. Registration is quick and completely free.
If you are definitely logged on, press Ctrl+F5 keys to reload this page [read more]



Unregistered users can only read messages in the most recent topics.
---
This topic has been archived, and won't accept reply postings.

[top of page] - [forums latest]