| | |
| --- | --- |
| | / Sheltered Climbing (Eastern Grit) |
This topic has been archived, and won't accept reply postings.
We're thinking of climbing in the peaks this weekend. The plan was to head to Burbage North but it looks like there are going to be some nippy westerlies coming in and my girlfriend feels the cold pretty badly. Can anyone recommend a crag in Eastern Grit that's reasonably sheltered?

Cheers

Tom
In reply to
thomaspomfrett:
> in the peaks

<sharp intake of breath>
Rivelin is very sheltered and a really lovely little crag, quite likely to be busy.
Lawrencefield, similarly. (Yet, strangely, my partner and I had the place completely to ourselves for most of a sunny Sunday afternoon a couple of weeks ago.)
Froggatt can often be a bit of a sun trap, though the top isn't nearly as sheltered as the bottom.
Turning Stone Edge faces East and has a thick tangle of Rhododendrons at the top (bottom, middle...) Bit esoteric for a visit from afar possibly, but there are a few gems there and you can't get much more sheltered from a cold westerly wind.
Another vote for Rivelin, was there weekend just gone, zero wind on the top at the belay. Also went to Froggatt but was much windier there later in the day, caught plenty of sun though.
Lawrencefield and Rivelin were pleasant the weekend just gone when the rest of the Peak District was getting a bit of a battering.
In reply to
Toreador:
Rivelin, Cratcliffe, Hobson Moor (and various onscure moorland quarries)lots of obscure Froggatt guide crags like Matlock Bank. Wharncliffe and Froggatt worth a look if the wind isn't too strong from the west. Turning Stone and Ramshaw worth a look after morning sun.

Thanks for all of the replies. I was at Rivelin for the first time a couple of weekends back and loved it so if the winds are up we might head there. Fingers crossed the rain holds off!
---
This topic has been archived, and won't accept reply postings.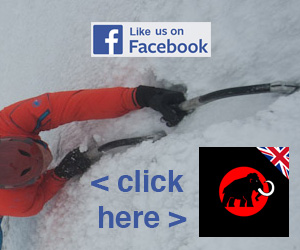 Elsewhere on the site
Perhaps the perfect Xmas gift for the climber in your life... Wild Country's Crack School has two of the worlds best crack... Read more
141219
0
Rock shoes stink – let's face it. Boot Bananas are the perfect way to fight the funk and keep them fresh. They help... Read more
141219
0
F ounded in 1993, Mountain Hardwear are a pretty young mountaineering clothing and equipment manufacturer but are also one of... Read more
141216
0
Tonight's Friday Night Video features the Norwegian town of Rjukan, once believed to be the home of the world's tallest... Read more
141219
0
At a bar in Llanberis an old man chimed in And I thought he was out of his head Being a young man I just laughed it off When... Read more
141203
0
---