| | |
| --- | --- |
| | / PRODUCT NEWS: Rockfax Guidebook - France : Haute Provence |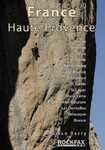 Is this the ultimate Christmas gift for the sport climber in your life! The latest Rockfax guide to the Haute Provence area of France covers Céüse, Buoux, Saint Léger, Orpierre, Dentelles de Montmirail, Buis-les-Baronnies and many more. From inspiration to perspiration.
Read more at http://www.ukclimbing.com/gear/news.php?id=2348
In reply to
UKC Gear:
Nice job, and Monty might notice we have changed the colour of the route lines to make them easier to see!
Chris
In reply to
Chris Craggs:
Really...! That's great. Thanks chaps. I hope the other 99.9% of the population can see them as well...
I did mention to Alan in an email when he sent me a sample of the new lines, that the most striking example of not being able to see red on grey was the front of my old Pembroke guide - I couldn't even see my own name! I'll upload a scan - see what you make of it...
In reply to
jon:
We are using the same system for the North Wales Classics book now as well, and it does make the lines a lot clearer, they are also thinner though which means you get a little more crag detail too.
I did notice that Grimer has been using the two-tone route lines since his first BMC books, so it isn't really an innovation we can claim.
Alan
---
This topic has been archived, and won't accept reply postings.