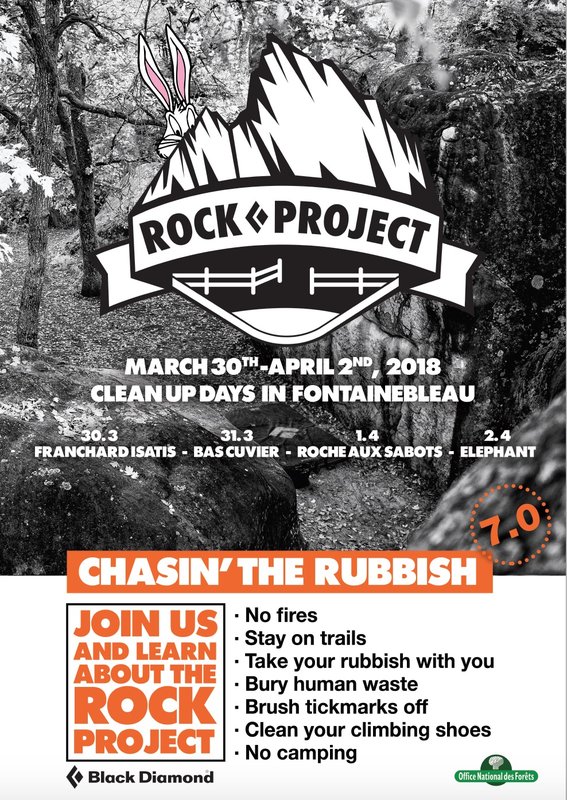 Black Diamond is organising its 7th 'Chasin-the-Rubbish' clean-up in Fontainebleau. From 30th March - 2nd April, a Black Diamond team of athletes and employees will be in the Fontainebleau boulder area to share responsible behaviour practices in nature and boulder areas, and to clean up.
30.03.18: Franchard Isatis
31.03.18 : Bas Cuvier
01.04.18: Roche aux Sabots
02.04.18: Elephant
Every year at Easter there are an estimated 10,000 climbers and other visitors hanging out at the bouldering blocks in the forest around Fontainebleau. Black Diamond's Rock Project team will be promoting ways to minimise impact on nature and the rock, as well as cleaning up the area. The goal is to preserve this playground for future generations and teach responsible behaviour to ensure its upkeep. Climbing in Fontainebleau has been popular since the end of the 19th century, and there are still more boulders to be discovered.
Please help us to spread the word on "good climbing practice" on your channels.
Sometimes it's just a lack of knowledge of outdoor climbing etiquette, so the Black Diamond team will be educating and handing out easy rules for climbing outside - especially in the sandstone area of Fontainebleau.
climb only with clean climbing shoes (sand on the soles polishes rock)
don't use too much chalk
don't leave tick marks behind
stay on the marked tracks (risk of erosion)
don't leave behind rubbish (especially toilet paper)
don't make a fire.
Jacky Godoffe explains what the Rock Project and Chasin-the-Rubbish 4.0 meant to him; in Fontainebleau, three years ago: