Going to throw it out there… ROUTES ARE WHERE IT'S AT!!!
Join the Manchester Climbing Centre team for our annual birthday bash – Festival of Routes (17-18th March). The line-up is a good one!
At a glance, think… Magic 8 Comp (8 crazzzzzzy routes), Elevate & WBL prize giving, Patagonia movie 'Dirtbag', craft beer & pizza, mad giveaways, free coaching and gear demos.
How the weekend is going to pan out…
THE LINE UP - Saturday 17th
MAGIC 8 COMP (10 - 4pm)
Ok, so we plan to get a little carried away on the route setting front! There are going to be 8 funky challenges; some will require creativity, others dexterity and some just straight power!
No Hands Slab – It's all about the footwork and balance!
The Tufa – Tufa action from top to bottom
Dyno – Who said Dynos are for bouldering only? It's all about the big wall dynos at MCC.
Campus – Think BIFF but on a rope. Do you have the guns to get to the top?
The Crack – Tape up your hands and get your jam on!
Fairy Steps – So we have a few spare campus rungs knocking about. Let's put up a crazy zig zagging slab line – think tech'ers footwork and wild balance moves.
Big Wall – So we all know top gear? This is our version of 'A star in a reasonably priced car'. We are setting a route that starts at 6b and ends at 8b. Each hold is numbered how far will you get? Who will get to the top of the leaderboard?
The Mystery – This one is still evolving in our minds, but it promises to be something requiring some serious creativity!
The way the comp will work is similar to our WBL scoresheet format. Rock up, have a go… did you solve the problem 1st, 2nd, 3rd… try??
MAGIC 8 / WBL / ELEVATE - PRIZE GIVING (4:30 – 5-30pm)
Patagonia and Scarpa have teed us up with some mega prizes! Prizes will be dished out not just for being a beast, but for all sorts of things; best whipper, best attitude, most committed climber, best banter… basically, if you do something cool we will likely give you some kit!
PIZZZZZZZZZZA and BEEEEEEEEEEER (5:30pm till late)
We are teaming up with 'With The Old Abbey Tap House' – Think stone baked pizza and craft beer!
PATAGONIA MOVIE (6:30 – 7:30pm)
Patagonia have sorted us out with the movie 'DIRTBAG: The Legend of Fred Beckey'! We will be screening this in the main hall – FREE popcorn what???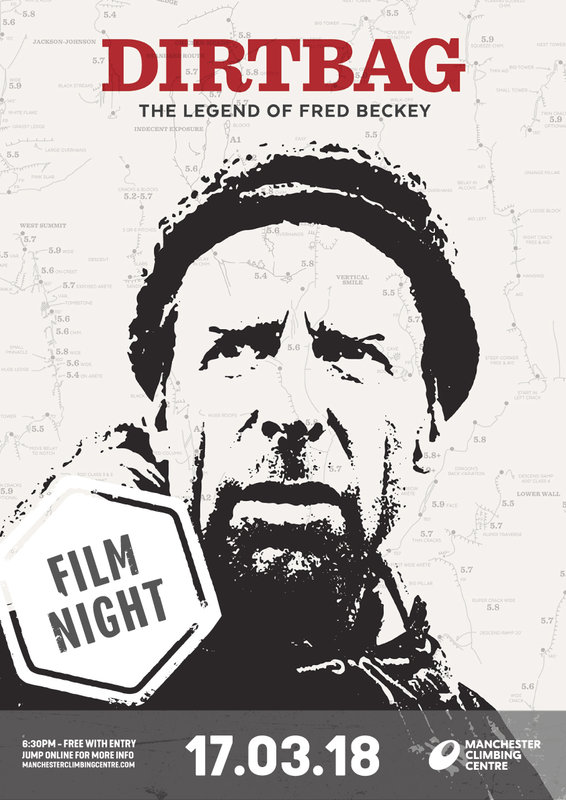 THE LINE UP – Sunday 18th March
Sunday is all about 'the gains'!
FREE COACHING!!! (11am - 2pm)
At 11am a 3hr coaching session will be kicking off. This will be headed by our in-house beast, MCC manager and climbing coach Rik Battye (8b+ what?? He will hate me saying that, haha). Trust me he knows what he is talking about!
As with anything it is all about 'focus', so the session will be aimed at 3 key aspects of route climbing…
Red Pointing – How to set yourself fired up for climbing the hardest thing you have ever dreamed of. Planning, Preparation and Execution!
Clipping – When is best and how to clip! Sounds simple, but trust me there is more to it than meets the eye.
Falling – Learn how to handle the fear, keep your head game in check and how to fall unscathed!
Plus, if you have any questions about footwork or training etc. we will tell you all we know!
We hope this line up gets you fired up! It will be a good one. The cost is just the price of a regular entry (if you are on a pass it is included!)
See you there!!!!