| | |
| --- | --- |
| | / NEWS: Brits Do OK in Ski Mountaineering World Championships |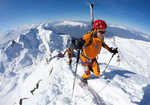 VIDEO AND PHOTOS:
In this extended news report,
Jon Morgan
describes the efforts of the
British Ski Mountaineering Team
in the Ski Mountaineering World Championships held in held in Andorra in the first week in March and more Brit action in the four-day La Pierra Menta race in the Beaufortain, France.
The Brits, like the Jamaican bobsled team, did OK. Jon Morgan asks: Do you want to be in the Bristish Ski Mountaineering Team? Yes they are recruiting.
Also included in this report is news about the Chamonix to Zermatt Haute Route record being broken and lots of links to all things Ski Mountaineering at UKClimbing.com including news that SKI TRAB is being brought into the UK.

Read more at http://www.ukclimbing.com/news/item.php?id=52860
In reply to
UKC News:
Good stuff looks great !
Good timing I shall post this in the winter forum in more detail. Its something that I have thought about a lot over the last season and at the moment have started to email round to get a feel for support and whether it would be something that people might be interested in.
I have thought we could do with an event in Scotland most likley in the Cairngorm area involving the three main components of an event ski up down and some sort of climb most likley and easy gully.
So how about it would people be interested in a ski mountaineering race in the Highlands next season.............??????
Dan
In reply to
UKC News: I'm guessing the 8 hrs + for the final km is a typo? (occurs in the linked article too) given based on the timings it took them well under an hour from the Col du Valpelline which must be at least 15 km from Zermatt.
In reply to
Dan Goodwin - Mountain Plan: sounds awsome!! race up ben macdui involving a climb, followed by some judged lines in the northern corries?? defenatly know a good few who would be interested
In reply to
UKC News: I would be game for a ski mountaineering race in the Gorms, I know plenty others who would be interested.


Several corrections made including Haute route record is now 20 hours 28 minutes
In reply to
Dan Goodwin - Mountain Plan: Id certainly be up for an event in Scotland, obviously in the novice category!
Cheers
Mark H
In reply to
Mark Handford:
If the script under the main photo is right then Esmund has shrunk and Gary devine looks very like Es used to!
---
This topic has been archived, and won't accept reply postings.