| | |
| --- | --- |
| | / CLASSIC ROUTE: Carrot Ridge, Bencorr |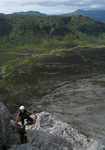 Rising forbiddingly out of the bleak Connemara landscape, the Twelve Bens (a.k.a. Pins) are as rugged as any massif in the west of Ireland – which is to say, very. For hills this rocky it's surprising at close quarters to discover that in between acres of quartzite the range is one giant sponge. Indeed the peat bogs and their guardian midge hordes are practically of a Caledonian ferocity. The same can be said for the hills, of which Bencorr is both beauty and the beast. This pale ridge-buttressed rock peak hosts some of the grandest crags in Ireland. Amongst so much exposed stone Carrot Ridge is the stand-out line
Read more at http://www.ukclimbing.com/articles/page.php?id=1977
In reply to
UKC Articles:
Carrot Ridge remains for me perhaps the most enjoyable solo climb I've ever done in my life (c.1976). Absolutely superb.
In reply to
UKC Articles:
Nice article. Classic route. Did it in 1969. Glen Inagh is a magical place.
Mick
In reply to
UKC Articles:I climbed it with a friend as his first ever rock climb, I think his only ever climb, and another as her first multi-pitch. I got beta off my uncle Frank who had climbed it many years previously, with nails in the pouring rain.
After we popped into the Loch Inagh Lodge for a pint of slowwww poured Guinness amongst the oak panelling and fly fisher men. When I asked the barman if they had any crisps, he replied curtly 'Do we look like the sort of establishment that serves crisps.' Well as curtly as an Irishman can get, maybe more of a wry smile. Brilliant.
Then a couple of days drinking and mooching around Galway and the Burren. A great long weekend.
---
This topic has been archived, and won't accept reply postings.