| | |
| --- | --- |
| | / OI NEWS: CWIF - Watch It Live This Weekend |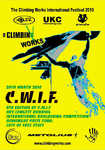 With just a few days left to the 4th CWIF, we at The Climbing Works are finishing off the final touches for Saturday's big competition...

So how many are competing? 200! That's right, 200! All vying to become CWIF champion and to take their share of over £4300 of prize money...

If you can't be there you can watch it at http://www.247.tv

Read more at http://www.ukclimbing.com/gear/news.php?id=2605
In reply to
UKC Gear:
Is the Works open as usual on Friday ?
Will UKC be posting pictures of Graeme in an NUFC shirt ?
In reply to
Chris the Tall: Comp wall shut but the rest is open. But no climbing on the soon to be set pink circuit
I am sure UKC will post a piccie or 2 if you donate some dosh ;-)
In reply to
Graeme Alderson:
If the buckets are out on Friday night I'll definately chuck some dosh in - I just want to make sure your sacrifice gets the publicity it deserves
And I don't think you need to worry about me clinbing on your comp circuit !
In reply to
Chris the Tall: I always thought pink was your colour though Chris ;-)
---
This topic has been archived, and won't accept reply postings.