| | |
| --- | --- |
| | / OI NEWS: Dry Tooling Series - Never Too Early to Start! |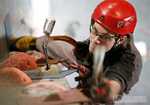 Summer has barely finished but already keen ice climbers are looking towards the next few months with eager anticipation, especially after last year's superb winter. What better way to get things started than a spot of Dry Tooling in the Scottish Winter Tooling Series 2010.
Read more at http://www.ukclimbing.com/gear/news.php?id=3028
In reply to
UKC Gear:
Will there be any Wet Tooling series this season?
In reply to
UKC Gear:
It certainly puts the fun back into climbing Usually a great atmosphere at these events and loads of people with helpful advice. Definitely worth trying if you haven't done it before.
Bill
In reply to
UKC Gear:
Does anyone know if there is going to be a student competiton or student entry price? I'd like to go and recommend to those in my club to go, but am put off by £17 for one competition, expecially if (highly likely!) I'll be out in one of the first rounds. Call me tight if you want, but I have to be.
In reply to
jonnie3430:
Hi Jonnie
We have managed to cut the cost down by £3 a head from last year and the comps are a full days entertainment regardless of how hard you climb.
The qualifiers take the lion share of the time and everyone gets a chance on every route.
We also have some great prizes this year with a wide variety of sponsors across the series.
Hope you can make it!
---
This topic has been archived, and won't accept reply postings.