The 2018 British Lead and Speed Climbing Championships took place at EICA Ratho near Edinburgh last weekend. Senior, junior and veteran categories competed alongside one another in EICA Ratho's atmospheric arena.
Held over two days, the event began early on Saturday morning with qualifications for all categories, including the British Speed Climbing Championship (BSCC) qualification runs. The setting team was led by Chief Setter Yann Genoux, accompanied by Andy Long, Gavin Symonds, Max Ayrton, and Emma Twyford.
The senior male and female categories were hotly contested, with IFSC Lead World Cup finalists and semi-finalists in the mix: Will Bosi, Jim Pope, Molly Thompson-Smith and Hannah Slaney. Will dominated the event as the only male climber with two tops after the qualification round before setting a highpoint of 44+ in the finals. This score was impressively matched by 16-year-old Hamish McArthur, who made his senior category debut with style, placing just ahead of seasoned senior competitor, Jim Pope.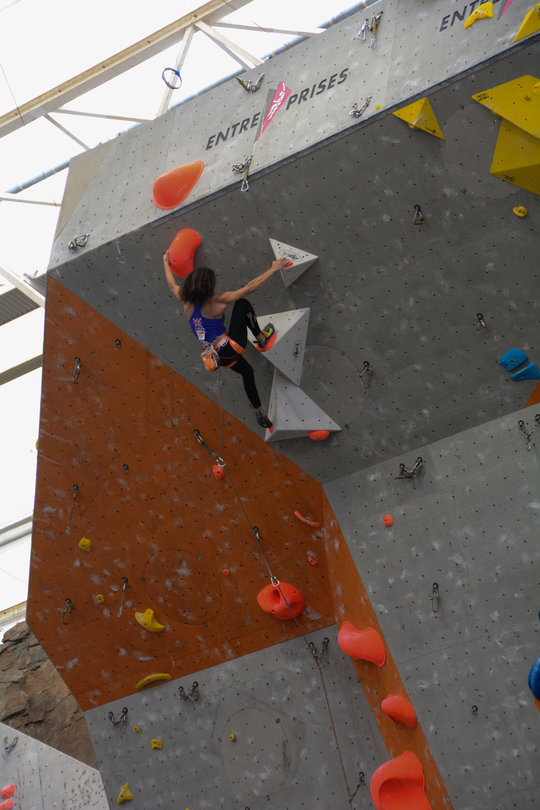 16-year-old Emily Phillips set a highpoint at the second-to-last hold, putting the pressure on Molly and Hannah. Both women smoothly topped-out, resulting in the win for Molly on countback to the qualifying routes, where she topped both climbs. Molly's win is all the more impressive considering her break from training and competing following her severe finger injury and subsequent surgery earlier this year.
In the Speed finals, Will Bosi beat fellow Scot Max Milne into second place, earning his second British title of the weekend and setting a new British Speed record at 7.47 seconds. Alex Waterhouse placed third.
In the women's final, GB team member Jen Wood took the win ahead of Emily Phillips in an exciting race. Pippa Watkin completed the podium in 3rd.
Full results of the Lead events here.
Lead
Senior
Men
1. Will Bosi
2. Hamish McArthur
3. Jim Pope
Women
1. Molly Thompson-Smith
2. Hannah Slaney
3. Emily Phillips
Junior
Youth A
Male
1. Finley Wood
2. Stephen Keir
3. Samuel Butterworth
Female
1. Hannah Smith
2. Emma Davidson
3. Martha Lubczynskyj
Youth B
Male
1. Daniel Smith
2. Alfie Duckworth
3. Tai Tewkesbury
Female
1. Katherine MacDougall
2. Tilly Vasic
3. Louise Flockhart
Youth C
Male
1. Jack MacDougall
2. Tom Healy
3. Oscar Phillips
Female
1. Gwen Morgan
2. Willow Petrobelli
3. Katie Roberts
Veteran
Men
1. Liu Yi-De
2. Neil Shepherd
3. Simon Tilley
Women
1. Koon Morris
Speed
Senior
Men
1. Will Bosi
2. Max Milne
3. Alex Waterhouse
Women
1. Jen Wood
2. Emily Phillips
3. Pippa Watkin
Junior
Male
1. Samuel Butterworth
2. Stephen Keir
3. Hamish McArthur
Female
1. Louise Flockhart
2. Emma Davidson
3. Tilly Vasic