In this series of articles, Tom Ripley interviews some well-known - and lesser known - climbing partnerships to dig up their dirty secrets and find out what they really think of one another...
---
Having climbed together since the 80s, Simon Richardson and Roger Webb are stalwarts of the Scottish Winter scene. The pair have been quietly climbing new routes on remote Scottish cliffs for over three decades. For much of the that time both of them have held full-time jobs. Simon is a recently retired engineer based near Aberdeen, whilst Roger is a criminal Lawyer based near Inverness. This partnership possibly rivals that of Fowler/Ramsden (Perfect Partner interview) as two of the UK's most successful weekend warriors.
Since 2009 Simon has compiled the popular winter climbing blog Scottishwinter.com. The site offers a near definitive record of new routes (and early repeats) of all grades in the Scottish mountains. In 2016 Simon published Chasing the Ephemeral, in which Simon uses his extensive experience of Scottish winter climbing to suggest particular routes which are best suited to certain weather and conditions.
As a partnership Richardson and Webb have focused, perhaps more so than any other team, in recent times, on exploration of the most remote cliffs Scotland. This obsession has yielded some big, impressive, and often difficult lines on extremely remote cliffs. The modern classic Royal Pardon on Aonach Beag is perhaps their best known climb. In 1987, before the opening of the Nevis Range ski area Aonach Beag took around six hours to approach - a stark contrast to the rather mellow hour and a half it takes in 2018.
Other notable first ascents include:
The Cardinal (VIII,8) on Beinn a'Bhuird
The Great Game (VII,7) on A' Mhaighdean
Wild West (VII,7) and Tir na-h-oise (VI,6) on Ladhar Bheinn
Slaying the Ghost (VI,6) on Mullach Coire Mhic Fhearchair
Katabasis (VI,6) on Slioch
Flake Buttress (VI,6) on Beinn Dearg Mhor
Roger on Simon
How did you first meet?
I first met Simon at Snell's field in 1983. He was busy doing twice as much as everyone else along with Roger Everett, (an exceptional mountaineer). They spent more time climbing and less time socialising than the rest of us.
Did you know Simon by reputation before meeting him?
I hadn't heard of him before, I doubt very much that he had heard of me.
What was your first impression?
First impressions were: very keen, very organised, slightly serious, and with a dangerous enthusiasm. These impressions haven't changed but are tempered by the knowledge that it is all backed up by competence.
What was the first route you climbed together?
We first climbed together on Raven's Gully at the tail end of 'The Great Storm' in 1984. This was shortly after Arthur Paul and Cubby did Guerdon Grooves. The whole place was plastered and buried. Eventually we failed, overwhelmed by powder, but not before Simon had managed a lead fall inside the route. The veneer of ice and snow he was climbing collapsed and he ended up in darkness between ice and rock. Something I hadn't seen before or seen since. He sorted himself out and calmly belayed. The lessons learned were that neither of us was bothered by weather and Simon's enthusiasm wasn't easily dampened.
Why do you enjoy climbing with Simon?
Simon and I share a desire to explore. He was the first person I could persuade to climb on Aonach Beag (before the ski centre it was a hard trudge from Glen Nevis). Since then we have managed to get to some of the more obscure parts of the Highlands, sometimes zero star routes in five star locations; occasionally five star for both. On each type of day he manages to enjoy himself. After 34 years you don't have to worry about what is happening at the other end of the rope; if it is taking a while there is good reason, the belay will be the best that can be got and there is no intra-partnership competition. This makes for a relaxed atmosphere, although occasionally his enthusiasm needs restrained ('You do understand that it is +4 degrees Simon...').
Partnerships, in climbing, are not exclusive but co-exist. During the time we have climbed together both of us have climbed considerably with others. The Cartwright/Richardson and Everett/Richardson partnerships were amongst the most formidable there have been, and latterly Simon has climbed extensively with others. The good thing about long term partnerships is that you can dip in and out. Sometimes family or work takes one away for a while, sometimes accidents, sometimes life.
What's the most memorable route you've climbed together?
A hard question, most memorable for what? Being attacked by sheep on a belay? Difficulty? Epic? Quality? Location?
Given I can't give a list I will reduce it to two.
Royal Pardon (Aonach Beag); This was the first big new route either of us had done in Scotland. At the time it was a long way from the road and on a cliff that, apart from two routes we had done at its edges, was unclimbed. We had seen it on a Saturday when we had climbed King's Ransom and, aware that we had avoided the main line of the cliff, we went back on the Wednesday. We topped out in sunshine and solitude. For me it was a seminal moment. I realised that if that was there, within sight of Ben Nevis, there must be other untravelled cliffs throughout Scotland. (I could have asked Andy Nisbet I suppose.)
The Great Game (A'Mhaigdean); A line to the summit of the most remote Munro. 17 years waiting for the necessary combination of weather and partner availability meant that torch improvements made daylight more a luxury than a necessity. This allowed a lot more flexibility in planning. We did it in a single push from the road with a 9 hour walk and abseil to its base. Climbing at night to ensure conditions, under a full moon, made the whole experience slightly other worldly. Sitting smugly on the summit looking across at Slioch, over a sea of moonlit cloud, trying to ignore the gale force wind whilst I brought Simon up was one of the best times of my climbing life; right up until that cloud rose up to engulf us and I remembered the length of the walk out.
Sum up your partnership in three words.
Relaxed, reliable and keen.
It helps that he is an engineer with a problem solving mind whereas I am an unrealistic dreamer. The combination of logic with occasional flights of fancy works.
What's the most scared you've been when climbing together?
This is a question I have had difficulty with. I must have been scared climbing with Simon but don't remember it. I do remember being concerned when Simon was retreating off a nasty bit of Aonach Beag but the most exceptional fear I recall was when walking across Loch A'an. I can't remember the name of the route we did but in the morning walking across the loch seemed a good idea and perhaps was, but in the afternoon it definitely wasn't. We were halfway across when I saw that all was not as it should be as water seeped into footprints. Acutely aware that I weigh a lot more than Simon I followed his progress with interest and was greatly relieved when he made it and belayed me. Always keep your brain in gear…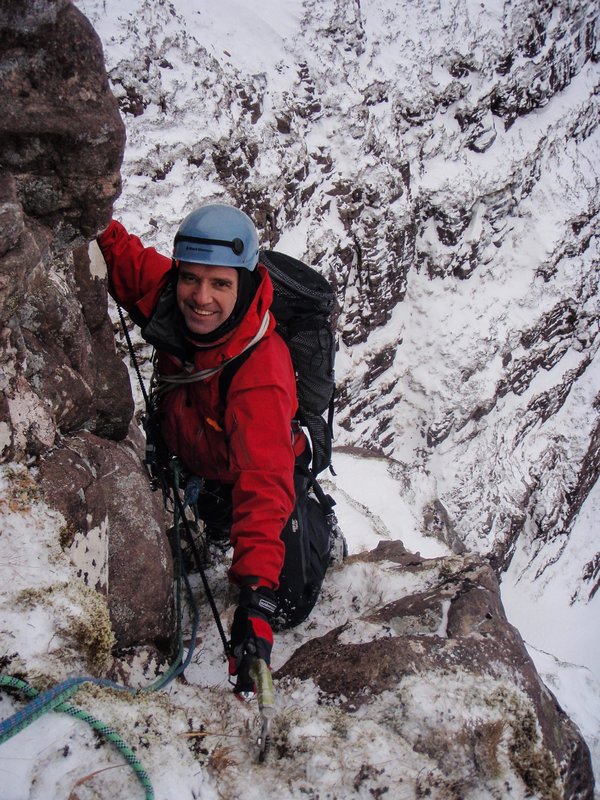 If you could change one thing about Simon what would it be?
I am not sure I would change much. Just occasionally he should perhaps slow down and appreciate what he has done. Also, there is no need to tell me it'll only be a IV, by now I know it will be a VII.
What are your plans for the future?
The Northern Highlands are a big place and there are still corners to explore. It all depends on the weather. I would very much like to get back to the Alps. As we get older we find we have more time, if less fitness, and I have some unfinished business...
What's the least enjoyable route you've done with Simon?
Another hard question because, if you see climbing as an excuse to go to interesting places and keep fit it is very hard to waste a day. I don't think I can answer that one. A sheep did once try to eat my belay and assaulted me when I complained. We had completely failed to appreciate that our route was cut by a terrace and hadn't factored in possessive herbivores. It did however allow us to call a route 'Sheep of Destiny' ( as opposed to the Inverness test piece 'Stone of Destiny' 6c+ ****) so all was not lost.
Has Simon ever cheated on you and climbed a route you really wanted to do together with someone else?
He has done routes I wished I had done but I don't think he has ever deliberately done something we planned with someone else. I cannot say the same: Simon had missed the initial exploration of Slioch's Atlantic Wall that I did with Neil Wilson (a man who has happily discovered that leashless axes mean that his re-engineered wrist can cope with winter climbing again) and had set his sights upon a distinctive corner. Slioch is quite hard to get right and although we had done a couple of other good routes nearby we hadn't found that line in an acceptable winter state and it remained on our 'to do' list. There was no real sense of urgency as it is not a popular crag. Then I got a call from Guy Robertson asking if I wanted to go to there with him. I had written a chapter on Slioch for Guy And Adrian Crofton's book Great Mountain Crags of Scotland and they were trying to climb with all their contributors. So in March 2013 I found myself, with one of the greats of Scottish climbing, looking at Slioch, in perfect condition. I tried to divert him from the obvious unclimbed corner by extolling the virtues of all sorts of lesser objectives. Guy however is no fool and made a beeline for it. Cravenly I let ambition overtake honour and the corner became 'Morgane' (a sometimes evil goddess). Sorry, Simon.
What have you learned from climbing with Roger?
That proper preparation and planning combined with a willingness to suffer leads to excellent days, occasionally wild punts lead to outrageous days but the planning method is more reliable. Enthusiasm trumps talent and as long as it is cold enough it is almost always possible to find Scottish Winter climbing somewhere, whatever the weather.
Simon on Roger
How did you first meet?
We first met on Snell's Field in Chamonix in summer 1983. That place was such a great melting pot for British climbers – so many climbing friendships started there.
Did you know Roger by reputation before meeting him?
We had friends in common and I knew he'd done some good alpine routes.
What was your first impression?
Strong, fit, enthusiastic, charismatic, intelligent and interesting. Above all, Roger seemed a really nice guy.
What was the first route you climbed together?
It was Raven's Gully on the Buachaille in the winter of 1984. We didn't succeed! The gully was in very lean conditions and we had a tricky time getting around the first chock stone and the next two pitches were pretty hard too. We failed due to really bad spindrift coming down the gully and it became impossible to climb any further so we abseiled off. Despite this it was a really good experience, and I wrote in my diary afterwards that it was one of the finest days winter climbing I'd ever had. We did succeed on a route together next day when we did The Flute on Aonach Dubh. The following year I moved to Scotland and we climbed our first new winter route together on the North Face of Aonach Beag. This led to the first ascent of Royal Pardon the following season – one of our finest routes.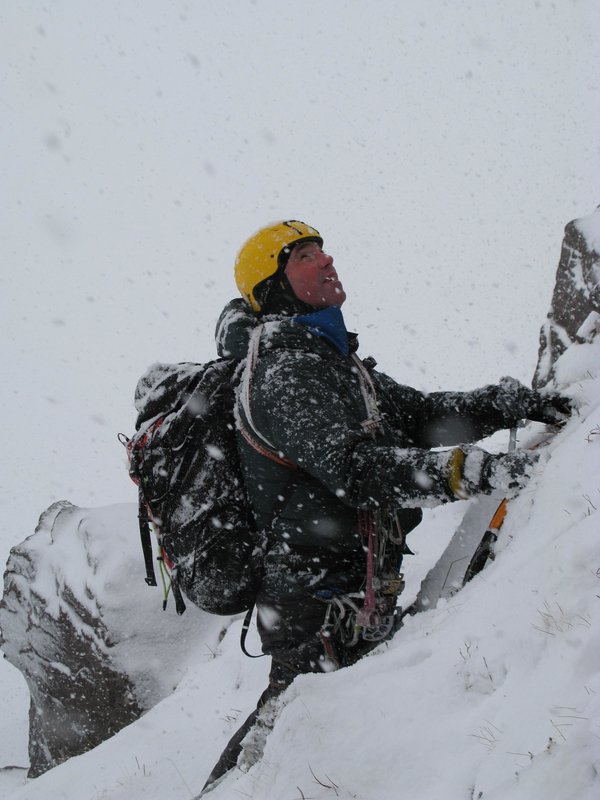 Why do you enjoy climbing with Roger?
We are very comfortable in each other's company. We both want to climb the same sort of routes. We love looking around new corners, and for us it's more about adventure than technical difficulty. But above all, Roger is very encouraging. It doesn't matter if I'm having a bad day, Roger will always urge me to get up my pitch and is very positive about the whole experience. This is such an important characteristic. When you've been walking in for eight hours and about to start climbing a big new Scottish winter route you feel incredibly vulnerable. Having somebody as strong and supportive as Roger with you makes all the difference.
What's the most memorable route you've climbed together?
Many routes stand out, but perhaps the finest adventure was The Great Game (VII,7)on A' Mhaighdean. Keen hillwalkers will know A' Mhaighdean as the most remote of all the Scottish Munros. It lies ten miles from the nearest road, but its South-West Face sports at magnificent 200m-high buttress that was just begging to be climbed. I first saw it when I was climbing with Roger on Slioch, in itself a very remote climbing venue. There on the horizon, deep in the Fisherfield Forest was this beautiful looking winter line. We agreed to climb it together, but it took us 14 years to figure out how to do it. We knew that it was going to be impossible to approach, climb and descend it in a single day and we would probably have to spend two nights out. The problem was how could we fit that into a weekend, so we decided to do the whole thing in a single push. We spent all Saturday making the approach (via an abseil approach down an unclimbed gully from the summit), and then climbed the route, which took eight hours, through the night. The year was 2008 and headlamps were nowhere near as good as they are now. LED technology was just breaking through, so Roger brought along a cycle headlamp with huge lead batteries that we set up below every pitch as a floodlight. Inevitably we were caught in bad weather as we topped out at 4am in the morning, and we finally made it back to the car 12 hours later after a 32-hour round trip.
Sum up your partnership in three words.
Respect, curiosity and trust.
What's the most scared you've been when climbing together?
I don't think we've ever been particularly scared. Being frightened is not something either of us looks for in our climbing! Perhaps one of the most serious events happened on Slioch when we were making the first ascent of Xenophon. About three pitches up a hold failed and Roger took a factor two fall onto the belay. I was pretty shocked, but Roger had tweaked his shoulder, which meant I had to lead the rest of the route. The climbs on Slioch are huge and over 500m long. Fortunately the weather was good, but inevitably we arrived back at the car very late.
If you could change one thing about Roger what would it be?
Nothing really. Sometimes I wish Roger would lead his pitch faster, but inevitably when I follow I realise it was much harder than it looked. I need to learn to be less impatient! One other thing is that it would be nice if Roger lost his obsession with Slioch. Although I enjoy long approaches, it's a hell of a long way on very rough ground and I always feel pretty wasted by the time we reach the foot of the cliff. We typically set off at 3am in the morning, and last time we climbed there we arrived back at the car at ten minutes to midnight. Roger was delighted – he said it was the first time he had ever climbed on Slioch and arrived back the same day!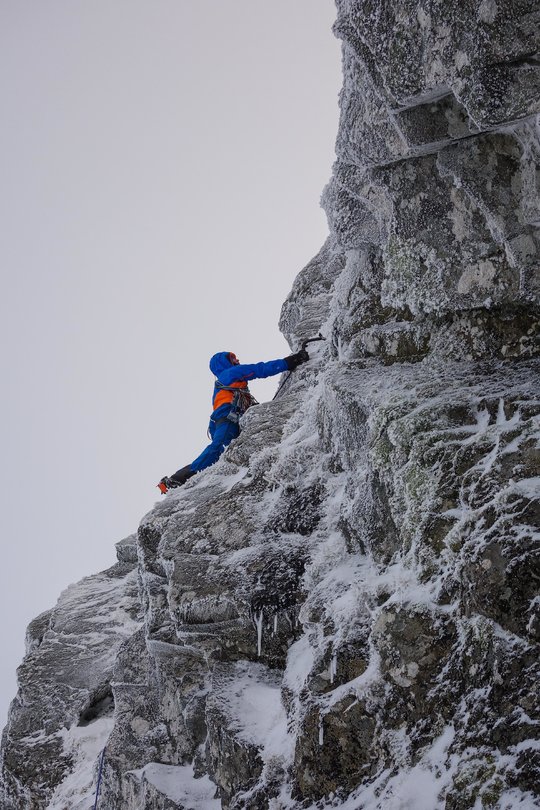 What are your plans for the future?
We have many Scottish plans of course, but the biggest ambition we have is in the Alps. Many years ago Roger was rescued after losing his eye very high on the North face of the Eiger. I visit the Alps fairly frequently and have had several opportunities to attempt the route, but I would very much like to climb it with Roger. I know it would mean so much for Roger to lay that particular ghost to rest. We've been out to try it, but the weather was not on our side, so here's hoping!
What's the least enjoyable route you've done with Roger?
I don't think we've ever done a route that we didn't enjoy. The great thing about Scottish winter climbing is that you never get a poor route because the medium is such fun to climb. Whether it's snow, ice, mixed, frozen turf, there is a real joy in moving across the terrain.
Has Roger ever cheated on you and climbed a route you really wanted to do together with someone else?
Yes, Roger cheated on me once but he had a good excuse! One of the reasons we visited Slioch so many times is that we were chasing a prominent unclimbed corner line. But we were incredibly unlucky. On every occasion the line was not possible because it was either too snowy or didn't have enough snow. Or it wasn't frozen, or it was frozen too hard and the turf shattered. Roger visited the cliff with Guy Robertson to take some photos for Guys' new book and when they arrived below the cliff Guy pointed to the corner and said, "What's that?" Needless to say the route was in perfect condition and Roger had no choice but to climb the route!
What have you learned from climbing with Roger?
I guess we are a classic example of the whole being greater than the sum of the two parts. I really love it when partnerships develop this way. I'm very proud of some of the things we have done, because for two relatively ordinary climbers, I believe we have climbed some extraordinary routes.
About the Interviewer:
Tom Ripley has been climbing for over fifteen years in both the UK and abroad: personal highlights include an ascent of Denali's Cassin Ridge and first ascents in Patagonia and Peru. Tom is dedicated to sharing his obsession for all types of climbing through his work as a climbing instructor and guide.
Currently, Tom is part way through the
British Mountain Guides
' rigorous training scheme. And, as a trainee guide, he is qualified to guide and instruct rock climbing and mountaineering throughout the UK.
Whether you are interested in making the transition from indoor climbing to real rock, working towards your first lead climbs, gaining self-rescue skills, or climbing a classic route that has so far eluded you, Tom can help you achieve your goal. Staying safe, patience and adventure are always a priority. He can be contacted through his
UKC profile
.
UKC Articles and Gear Reviews by Tom Ripley