| | |
| --- | --- |
| | / NEW ARTICLE: Memories on Cyrn Las, Llanberis Pass |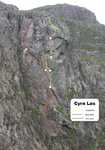 Mark Reeves
climbs three of the classic routes on Cyrn Las, Llanberis.
"The skeletal figurehead threatens to eat you, as you disappear deep in to an overhanging groove, bridging for your life as the drop snarls at your feet like pack of charging wolves."
He explores different stages in his climbing life and touches, just briefly, on some of the emotions and experiences these routes have lead him through.

Read more at http://www.ukclimbing.com/articles/page.php?id=1829
In reply to
UKC Articles:
Cracking Mark. Thank you. Really enjoyed that.
Mick
In reply to
UKC Articles:
Very evocative, especially I suspect, for those of us who have been around a while.
Chris
In reply to
UKC Articles: I enjoyed that, nice one Mark. That is more how the crag articles should be in the magazines I think, rather than a dry fact-file which don't even have enough information to get you up a route.
Sam
In reply to
UKC Articles:
>I feel jealously and sorrow for this young boy, jealous that he has the opportunity to experience the adventure of such an outstanding route, but sorrow that he has lost the opportunity to make such an ascent for himself in a few years times. For me it was one of those more memorable experiences, for him just another day out with his father.
Blimey, what a totally bizarre thing to think, let alone say.
jcm
---
This topic has been archived, and won't accept reply postings.