| | |
| --- | --- |
| | / NEW ARTICLE: Surviving Sea-cliff Adventures |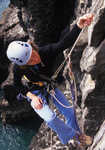 In this article professional mountain guide
Libby Peter
gives us some hints and tips on the additional skills needed for sea cliff climbing.
Briefly covering prusiking, abseiling and other tips and tricks, the article is based in part on content from her instructional DVD Get Out on Rock.
The article includes Diagrams from the MLTUK and photographs from Mike Robertson.

Read more at http://www.ukclimbing.com/articles/page.php?id=2651
In reply to
UKC Articles: Regarding the picture "Backing Up A Stake Anchor"...is that really a good example of an abseil set up?
I would have thought that the stake and nut should be equalized with an alpine butterfly, and the black sling and one screwgate would then become unnecessary and reduce prospective failure points. As it is, that nut would get shock loaded if the stake failed :-o
I know everyone does these things differently. Any other views?
In reply to
MrFlibble:
> As it is, that nut would get shock loaded if the stake failed

And God forbid a nut should ever be shock loaded.
How irresponsible - UKC ought to be ashamed of itself for printing such terrible advice (and from a Mountain Guide as well!). Won't somebody PLEASE think of the children? etc etc
In reply to
UKC Articles: A good article, but I think that it is worth mentioning that you should rinse your gear with fresh water after climbing on sea cliffs. Salt water can do some serious damage to climbing gear. I've learnt this the hard way, after getting hit by a large wave at Sennen in Cornwall and not rinsing my gear for a couple of days - two of my HB cams never recovered.
In reply to
UKC Articles:
No mention of checking tide tables (at least for some routes)?
---
This topic has been archived, and won't accept reply postings.