| | |
| --- | --- |
| | / NEWS: VIDEO: Chris Sharma Interview |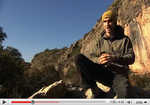 This Youtube video from World Sport TV is an in depth interview with Chris Sharma.
The video is worth watching just for the voice of the narrator!
Chris comes across well, explaining his motivations and passion so that non climbers can understand, but in a way that is still insightful for knowledgeable climbers too.
Read more at http://www.ukclimbing.com/news/item.php?id=52389
In reply to
UKC News: Thanks for this. I wonder if I grow an inverse moustache, it'll make me a better climber. God knows I've tried everything else
In reply to
UKC News:
Has he come across to the UK, and if what did he do and reckon to the climbing here?
Any-one know?
Cheers,
Lex
In reply to
UKC News:
Very nice - you are right about the narrators, both of them would be strong runners in a funny voice competition
In reply to
UKC News: great vid! How is the idiot narrating? Sounds a bit T4 to me from what i catch of it when my little sister is crashing
---
This topic has been archived, and won't accept reply postings.