The Sharp Edge is a versatile and genuinely female-tailored ski mountaineering shell that will serve you well both up and downhill, all season long, says Rebecca Ting
---
With big storms making for a tricky backcountry snowpack, there have been a few times this season where I was right on the edge of my comfort zone. I also know I haven't nailed my equipment set-up: My ski and boot combo isn't stiff enough, too light to adapt easily to wind-scoured or choppy conditions on the downhill. There definitely wasn't time to faff around with clothing.
However, in testing Rab's new Sharp Edge Jacket, at least my hardshell was in its comfort zone - versatile and ready to respond quickly to whatever conditions came along.
I've taken it with me on every ski trip this season, from lightweight day ascents to hut-to-hut and multi-day winter camping with a 45l pack. Conditions have ranged from a mild 2°C early season in the Austrian Tyrol, to extra wet Chamonix, to minus 19°C trying to pitch a tent 13,600' of the way up a Colorado 14er in 40mph winds. And then of course, some weather comes in…
Designed for 'technical climbs and nail biting descents', the Sharp Edge is a serious piece of kit. At 513g (size 12), it is relatively light and relatively packable – the thing is, however hot I've been, I haven't needed to take it off.
Function
The reason for this is the jacket's versatility. If the weather closes in, you can batten down the hatches and the wind and waterproof fabric will see you through. If it's sunny and you're steaming up the mountain, you can adjust your temperature or ventilate quickly, which means you can just get on with the climb without having to hang about. A two-way 'belay' zip gives easy access to your harness when you need to rope up – again, minimal faff.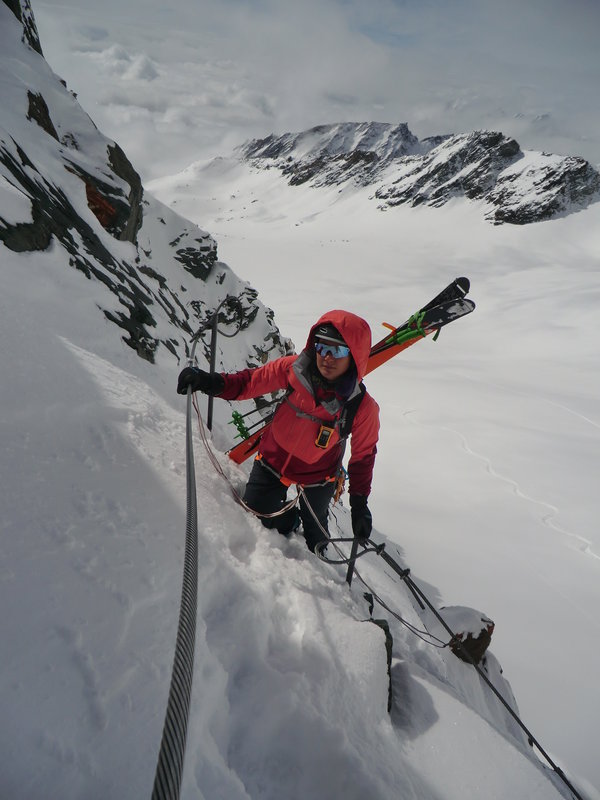 For a hardshell, it is extremely comfortable and moves well, giving full range of motion on rock and snow. The shape is also definitely female-cut and can be cinched at various places, meaning that you don't end up with flappy bits of fabric either. As a short-armed, long-bodied tester, I found I had enough length in the back and didn't notice the extra length in the arms bunching up. If you stop to rest, you can easily chuck a down jacket over the top.
Fabric
But all importantly for skimo, it breathes. This apparently all comes down to the Pertex Shield AP 3-layer fabric, which is stretchy, has an air-permeable membrane and actively wicks out vapour to give good breathability and moisture control. Proper pit zips allow you to fine tune this – more on that later.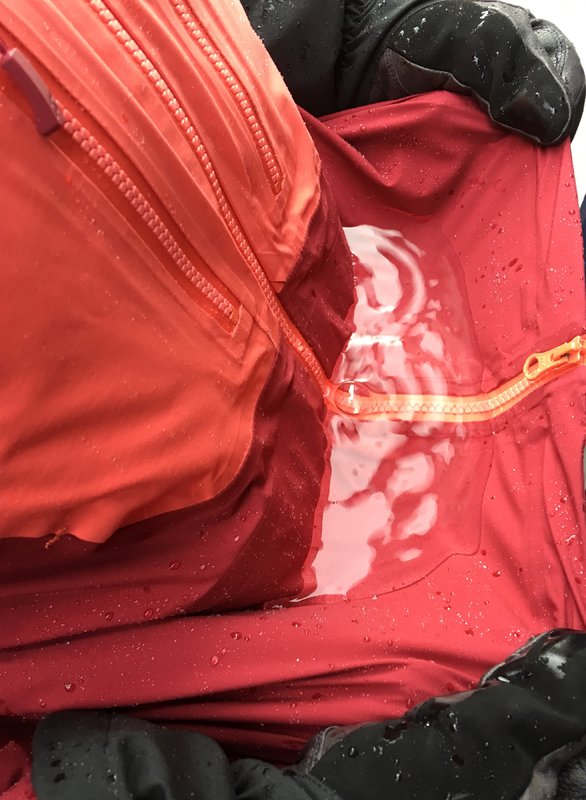 The weird thing is that whilst feeling breathable and moving well, the Sharp Edge also seems to be tough. It didn't snag (I like tight tree skiing) and it didn't rub - against rock, rope, ski edges, axes, pack staps and harness. It cut wind above treeline in the Rockies.
It is also definitely waterproof. The 20,000mm hydrostatic head and AquaGuard zips were fully tested in the Alps in late January when we ended up on piste in Les Houches as the backcountry and other resorts were shut down under extreme avalanche forecasts. Powder turned to rain and collected in the jacket in my lap on a chair lift. There it stayed until I stood up at the top and simply emptied it off, dry underneath.
Aside from performing well under a wide range of conditions, the jacket is easy to care for; I have washed it twice now with Nikwax and it still feels soft while retaining full durability and water repellency.
Features
One of the major sticking points of the women's hardshell market has been the lack of credible pit zips (or general lack of ventilation options). The Sharp Edge's Escape Artist pit zips provide a range of options for sweaty uphill travel - you can vent core heat (or as someone who runs cold, vent arm heat without core heat) and even take your arms completely out and shove the sleeves behind your pack (looks silly, functions well!). My only wish here would be for slightly larger zip pulls to be able to grab them easily on the move. It's a bit of a fiddle in gloves, and best not attempted at all in mittens.
The hood is well designed - deep and tall enough for both ski and mountaineering helmets. The wire brim ensures it stays in a structured open shape even without a helmet underneath, but will cinch down at the sides and back if you want to keep the weather out. The chin guard/collar is pretty stiff and with the hood up will stay up unzipped, providing good protection against side gusts on either side of a kick-turn.
The Sharp Edge is designed for skimo, so the ski-specific features such as the grippy powder skirt add downhill functionality. Combined with the drawcord, you can keep wind and snow out, though it may prove a tight fit if you are layering up between your baselayer and jacket. If, however, you're not the kind of skier to benefit from a powder skirt, it's totally removable, shaving 57g.
It's also worth noting that the cuffs are versatile, so can go over or under gloves and even (my personal preference) fit under dachsteins.
Pockets
The Sharp Edge is well served with pockets, with two chest pockets, two internal mesh pockets and a wrist pocket – all with YKK AquaGuard Vislon zips.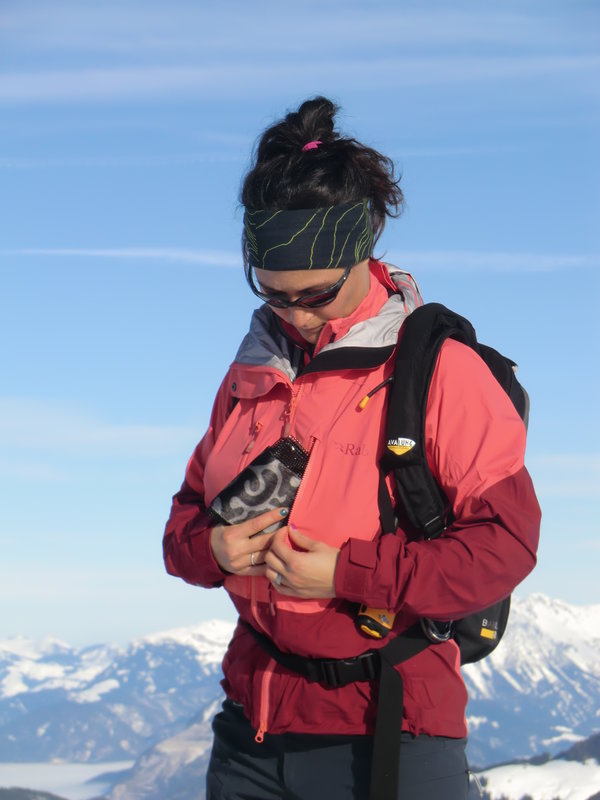 The external chest pockets are a neat feature, designed for carrying your skins on the downhill. They run from mid-chest to just above the hip, meaning that anything stowed in there does not interfere with your waist belt, and the zip access can be arranged so that it avoids the chest strap too – extremely useful for easy access on the move. 'Bellows' in the fabric ensure that the pockets sit flat against the body when not fully filled, but allow them to expand out to extend capacity if needed. Once I had nailed my folding lengths, my skins fit in easily, with or without cheat sheets. The easy access also meant that it was convenient to stash other things in there for the uphill, goggles, camera etc.
I've seen other reviewers report you can fit a 1-litre Nalgene in the internal mesh pocket without compromising movement, but in a women's size 12 I would say you are looking more at a 500-750ml bottle, especially if you have your skins in your outside pockets. The wrist pocket is convenient and easy-access for sunscreen, phone, ski straps and a snack, or a ski pass holder if you have a day on resort.
The pockets also make for interesting options on pack choice. With the ability to carry skins and drink in your jacket, plus a few essentials in your sleeve, you really can cut down to a minimalist avy pack for day tours (15l Black Diamond Avalung was plenty, and a Lowe Alpine Avy tool bag manageable).
Sizing
A brief note on sizing… The Sharp Edge is a 'regular' fit jacket. Though the 'Find your fit' function on the Rab website seems to be relatively accurate, sizing will of course depend on your particular body shape and how you want to use the jacket so I'd advise considering how you will use it and trying a few sizes with your layers and your pack. If you are planning on taking advantage of full pocket packing and/or want to be able to wear a mid-layer and retain the option to use your powder skirt, be aware that you might want to size up!
Summary
At £350 the Sharp Edge is a fairly serious investment, but this seems fair for a piece which combines technical fabric, skimo-specific features and durability, especially when comparable products can run up to £650. Furthermore, it's a nice-looking jacket and, for women's gear bonus points, is neither pink nor purple and the zips don't sit in unfortunate places.
With the Sharp Edge, Rab have made a versatile female-cut jacket with proper features that will serve you up and downhill all season long. And with plenty of snow still on the ground, and the prospect of longer days ahead, I will be keeping the Sharp Edge packed in my ski bag just in case…
Rab say:
The ideal partner for ski mountaineering, the Sharp Edge is designed for technical climbs and nail biting descents.
Price: £350
Sizes: 8 - 16 (women) S_XXL (men)
Weight: 502g (Rab's estimate)
Fabric: Pertex Shield AP 3l fabric with stretch
Ski Mountaineering helmet compatible hood with wired peak, lined collar & roll down anti-snag velcro tab
Fleece lined chin guard and back neck
YKK AquaGaurd Vislon front zip with dual internal storm flap system
2 YKK AquaGaurd Vislon zipped bellowed chest pockets, with ventilation, large enough for ski skins and 2 internal mesh bottle pockets
YKK AquaGaurd Escape Artist pit zips
Removable powder skirt
Hem drawcord with cord retainer and anti-snag velcro adjustable cuffs
Fit: Regular
Centre back length (Size 12): 71cm
For more info see rab.equipment