The Scarpa Ribelle Mountain Tech OD is a new concept of mountain boot for the fast and light alpinist or serious Scottish winter hill goer. Combining something of the feel of an approach shoe with B2 mountain boot performance, it's designed to tackle moderate to semi-technical winter climbing while also maintaining enough flexibility and sensitivity to be comfy on long walks, and competent on easy rock climbing.
The Ribelle range now runs to three models, each occupying a slightly different niche but all three drawing on some distinctive boot building technology. The orginal Ribelle, the Mountain Tech, is their winter all-rounder. That's now been joined by the more scrambling-oriented Ribelle Lite, which we'll review later in the year. At the opposite extreme is the Ribelle S, which looks in essence like a crampon-compatible running shoe for a very specialised niche.
Here's what Scarpa told us about the range:
"The Ribelle range evolves from fast and light with the Ribelle Lite to the faster and lighter Ribelle Mountain Tech to the fastest and lightest Ribelle S."
"These boots signify the future of the Scarpa mountain range focusing on the changing ways in which we, as a community, approach mountaineering, and mountain sports; light and agile boots that perform technically and are comfortable to walk in – from the valley to the summit."
"The Ribelle Range illustrates what Scarpa can create to satisfy the most demanding mountaineer's requests using the highest quality materials and technology available."
They are certainly eye-catchingly futuristic!
Weight - or lack of it
At 1164g for a pair of size 42 (Scarpa say 1220g), the Ribelle Mountain Tech is one of the lighter B2/C2 crampon-compatible boots on the market, and if you're used to clumpy traditional winter footwear you'll really notice the difference. It's worth noting though that despite its minimalist cuff and cutting edge materials and design, this boot doesn't weigh an awful lot less than some rivals of a broadly similar capability - the Asolo Freney XT for instance is quoted as 1280g/pair size 42 (we made it slightly less in a recent review). In Scarpa's own range the B1/B2 Charmoz OD comes in at 1440g/pair size 42.
What is the Ribelle Mountain Tech for?
Don't imagine long sessions front pointing up gullies - that's not what the Ribelle is about. Winter mountaineering ridges are their ideal application, routes on which steep steps are interspersed with lots of easy ground, and for which you need deft footwork on both rock and snow.
If there is one Scottish winter route that makes a case for these boots, it's a fast traverse of the Cuillin. This winter I'd hoped to have a crack at this using the Ribelles, however being free never coincided with decent weather/conditions windows (isn't that always the way?!). Interestingly though, Uisdean Hawthorn also had the same objective in mind, and he chose the Ribelles to do it in. They can't have hindered him, since he achieved a new winter traverse record of under five hours!
Just looking at these boots you can tell they are something different, and one of the things that I wanted to know about them is simply what I could do with them. Over the last few months I've brought the Ribelles along on all sorts of different days in the hills, from late autumn through winter and now into spring (such as it's been so far), testing them on technical ground to find where they really fit between approach shoes and mountaineering boots.
In summer I would use these on long mountain days, where terrain varies greatly and could involve anything from scrambling to walking through bogs, crossing streams and general long distances. If you're traveling at a steady pace these are ideal boots for that, however if you're wanting to move very fast and light then I'd probably still opt for a pair of approach shoes or fell running shoes and accept the fact that you'll have to tread with care around bogs or live with wet feet.
In a UK context, winter is where the Ribelle Mountain Tech really stands out. Slipping these boots on for a day out in winter is very satisfying, they just feel so incredibly light and nimble, yet you still have a great deal of protection thanks to the integrated sock and the harder shell of the boot. But you should prepare to be moving near enough constantly throughout the day. These are light boots, and light boots as you would expect don't have the same level of thermal insulation as full weight winter mountaineering boots. I don't however see this as a negative - far from it, these boots are perfectly designed for their use, and having used them on minus-double-digit days I'd say that when you are moving they keep your feet at a perfect temperature. That's not to say you can't stop for lunch on the summit, but don't take these out expecting to belay someone. And this leads me nicely to how they handle technically in winter...
From my experience the Ribelles function brilliantly up to around Scottish tech 4, but any harder/steeper and I'd be likely to get problems with calf pump due to the fact they are only a semi-stiff boot, not something with a rigid sole. However it's worth saying that this is a grade I'm very happy on, and that as a result I'm comfortable with the lesser support on offer with these boots. Users for whom tech 4 feels hard may want to draw a line rather sooner. And anyone with larger feet (mine are small) will likely notice the flex more due to the increased leverage. My general rule of thumb when deciding what to take would be: if the route is going to be hard for me and particularly if it contains back to back pitches or significant ice climbing, then I will stick with a big winter boot - they'll feel more secure and make for warmer feet. However if it's a mountaineering style route with small technical sections but mostly moving together or easy ground, then here's where the Ribelles come in. If you're going out to solo some easier mountaneering routes and you'll be constantly moving, these are pretty much the perfect boot!
Fit and feel
Firstly, and stating the obvious, the fit of a boot is a very personal thing, so don't take this as gospel. It's always best to try before you buy. The boot is built on a single last, but though this is male oriented by default, with a size range from 39 to 46 it's still accessible to a lot of women. Bigger-footed users are liable to be disappointed however that this model only goes up to a 46.
Size-wise the Ribelle is what I would consider in the normal Scarpa sizing range. I already own a pair of Phantom Guides and some Rebels, and based my sizing decision on those. This worked well, so if you already have some Scarpa boots they should be a good reference for selecting the correct size in the Ribelle. Seeing as this is a fast and light boot, I opted for a smaller size than I might normally get in a big mountaineering boot. My reasoning for this was that I'd not be kicking into hard ice as much as I would in a normal boot (tight boots kicking in throughout the day hurts your toes!), and I wanted something that was a snug fit for sensitivity.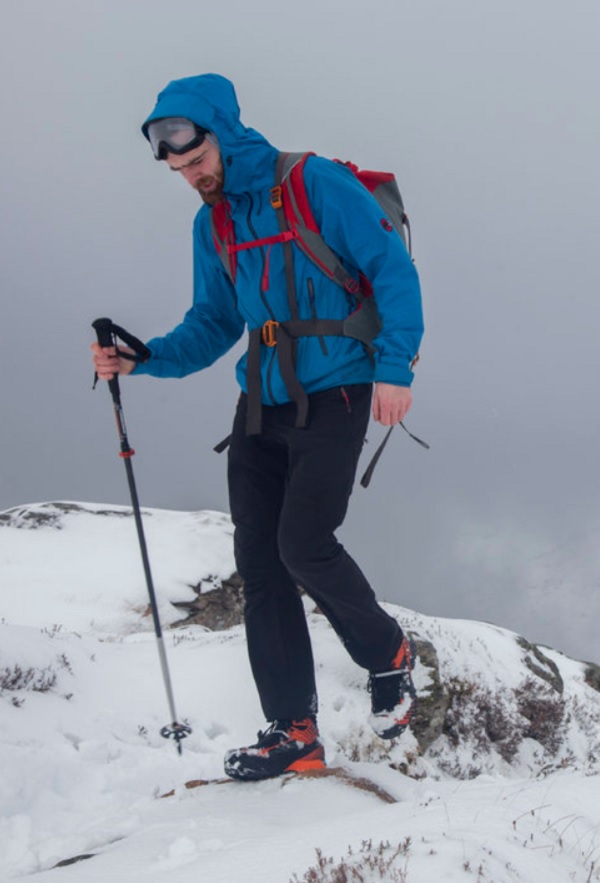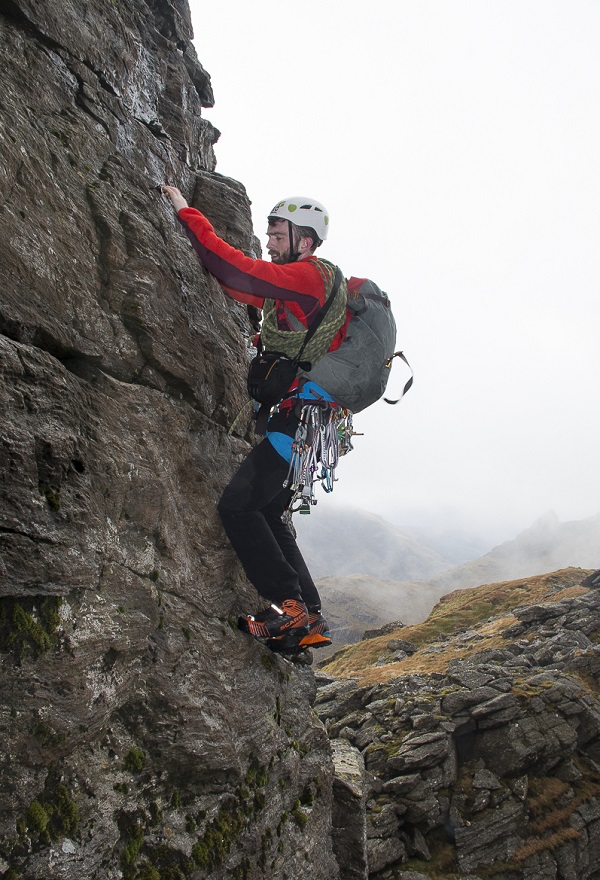 The general shape of the Ribelle is narrow, especially around the mid foot. It also feels a pretty low volume boot at the heel, which happens to suit me well. This feeling of low volume is probably amplified by Scarpa's Sockfit technology hugging the foot snugly (more on that later).

Scarpa have gone to great lengths to cut weight where possible, and one area that has obviously seen a material reduction is around the ankle. The upper cuff is very flexible, quite unlike a stiff mountaneering boot, so you don't get the same ankle support you would from a larger boot. This is obviously something of a tradeoff. While your risk of turning an ankle is increased on uneven ground, you get the benefit of increased flexibility and comfort when on the move. Being less clumpy makes the Ribelle more precise than a traditional winter boot, and if you're stepping nimbly rather than plodding along heavy-footed, this can help compensate for the reduced ankle support.
Crampon Compatibility
The Ribelles are compatible with a C2 semi-step-in crampon - one with a heel clip and toe basket (more on crampon types here). Due perhaps to it being somewhere between a mountaineering boot and a shoe, the sole unit is quite narrow, and you may find more of the front of the boot points out the basket than you are used to with bulkier winter footwear. However we have yet to come across a C2 crampon that doesn't fit the boot. So far we have used it with the Grivel Air Tech, Grivel G12, Petzl Vasak and Petzl Lynx - a good selection of leading models, in other words.

All these have fitted the Ribelle securely for long days of walking and mountaineering. Arguably all of the above models can outperform the Ribelle on technical ground, but if you're just out for a walk and don't need a climbing crampon then most common models of strap-on walking crampon should work too.
Upper
With quite a unique look, the upper on the Ribelle is probably the most striking feature of the boot. The boot's material is relatively flexible, which was clearly a design decision by Scarpa to reduce weight and maintain freedom of movement. It's constructed using a synthetic material, something called KCN Tech fabric, from the sole up to around the ankle. This is sturdy and weatherproof. There's no cuff in the conventional sense, but instead from the ankle up is the integrated "Sockfit Plus" system, which is basically a stretchy sock/gaiter. This keeps snow, water and debris out of the boot, and though it provides next to no ankle support in the sense you'd usually expect form a mountain boot, the knock-on to this is that you get brilliant freedom of movement. For precise footwork this is clearly a big bonus.
With its OutDry membrane, the entire boot is watertight, and after about 15 days out with them to date I've always ended the day with dry feet. It's next to impossible to objectively quantify in real world use, but I have found OutDry to perform very well so far, and in terms of foot comfort I'd say the Ribelles stack up very favourably against heavier, thicker, Gore-Tex lined footwear. Since the Ribelle is so different, comparing it directly with a more structured boot is a bit of a case of apples versus pears, but what I will say is that this is the most breathable winter boot I've worn, by a country mile.
OD stands for OutDry, a waterproof lining that Scarpa have begun to use in some models instead of the more usual Gore-Tex membrane. Our review team first encountered this when Gear Ed Dan Bailey reviewed Scarpa's Charmoz OD in January 2017. Here's what he wrote:
A traditional waterproof lining is effectively a sock with taped seams, sandwiched between layers of boot. Over time such a lining may fail though movement between layers or the ingress of grit, while even when the lining is working as intended water may pass through the outer and then pool in the gap between it and the waterproof layer, making the boot heavy. OutDry claims to have solved these issues by heat bonding their waterproof/breathable barrier directly onto the inside surface of the outer fabric. There are no seams or gaps, they say, and hence no way for water to get in. The result is apparently lighter than a traditional booty-style membrane, and more long-lasting.
But how long does it last? After two seasons of regular winter wear, and some summer Alpine use, Dan is still very pleased with the performance of the Charmoz's OutDry lining, which I guess we can take as a positive sign.
The lacing uses a simple eyelet system that is easy to manage. A drawcord style plastic strap on the top of the laces, similar to that on the Scarpa Phantom Guides, although a smaller and lighter version, allows the user to draw the laces closed then relax tension on the laces to tie the knot. Over the top of the laces is Scarpa's lace protection system, which helps keep the laces from being caught in crampons etc. To be honest I think it would be nice if this was removable with some sort of clip system, as it's non essential and it's another piece of fabric you could strip down for weight saving.
Sole
Although this boot diverges from traditional boots in many respects, Scarpa have stuck with a familiar-feeling outsole for the Ribelle, the Vibram Pentax Precision III. With a light PU midsole and less depth of tread than you'd normally get with awinter boot, this is probably where a lot of the weight savings have been made. As a result the sole is thin, so all else being equal it's probably going to wear out faster than your average boot. The thinner sole also probably contributes of the quicker heat loss you will experience with these if you're not moving around for a while. As you would expect with Vibram rubber it handles well on dry rock, wet grass and snow.
Summary
The Ribelle Mountain Tech would be a fantastic boot for anyone who enjoys summer srambling, but even more so for winter and alpine mountaineers. They will be of particular interest to individuals who are counting the grams for lightweight Scottish winter or summer Alpine days. Their performance on both rock and winter ground, combined with overall walking comfort, makes them perfect for moving light and fast over semi technical terrain. The fit of the Ribelle is closer and more shoe-like than traditional winter footwear, and there is a slight flex in the sole and far less support for the ankle than you would find in more familiar mountaineering boots. This however is one of the reasons the boot is good for covering ground fast in. It feels somewhat like a trainer, but with a semi rigid sole that can take a crampon - an odd combination, but one that makes sense within its niche. It's the only winter boot I've worn where running is justifiable throughout the day!
The general construction of the boot is excellent and the materials have stood up to wear well so far. Although the Ribelle Mountain Tech can be looked at as a pretty specialist bit of kit it's also something that a normal winter walker or occasional low-grade summer alpine climber would appreciate too, and for that reason I think the rather high £390 price tag is in fact reasonable, since you could end up using this boot on a wide variety of days.
Scarpa say:
Extremely light and comfortable thanks to the exclusive Sock-Fit Plus construction system the Ribelle Tech OD performs on all terrains thanks to innovative technologies and materials. This boot represents the step forward in the mentality of mountaineers and alpinists. With outstanding comfort for daily hard trekking, the Ribelle also gives great sensation and performance on via ferrata, and alpine style ascents and technical mountaineering routes. The combined lightness, agility, stability and grip make the Ribelle the right choice for alpine guides, mountain professionals and expert alpinists.
Price: £390
Weight: 1164g/pair size 42 (Scarpa say 1220g)
Sizes: 39-46 (men)
Crampon Rating: B2
Sole: Vibram Pentax Precision III
Last: ARG
Upper: KCN TECH Fabric
Lining: Outdry®
Insole: Activ Plus
For more info see scarpa.co.uk
UKC Articles and Gear Reviews by Martin McKenna - UKC